Vietnam adds 20 cases to Covid-19 count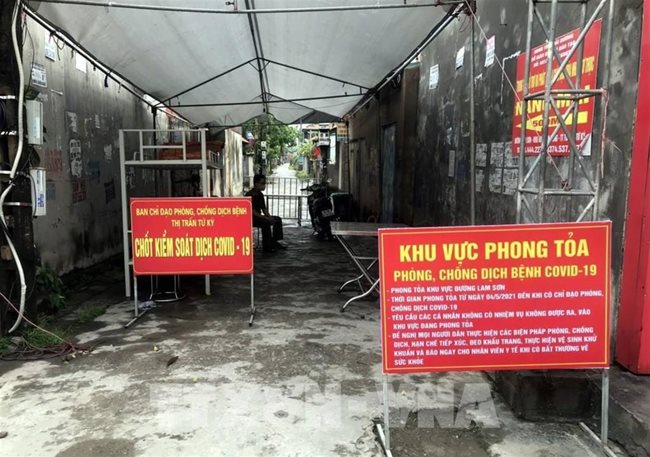 An area where a Covid-19 patient is reported is put under lockdown. The Ministry of Health confirmed 20 new locally transmitted Covid-19 cases on Saturday morning - PHOTO: VNA
HCMC - Vietnam recorded 20 more locally transmitted Covid-19 cases in five northern provinces this morning, May 22, pushing its Covid-19 tally to 4,961.
Among them, 11 were recorded in Bac Giang, four in Hai Duong and three in Bac Ninh. Thai Binh and Dien Bien detected one new case each.
As many as 1,913 domestic infections have been detected in 30 provinces and cities nationwide in the fourth Covid-19 wave starting late last month.
The new cases raised Covid-19 count in Bac Giang and Bac Ninh, the two biggest hotspots, to 778 and 394, respectively.
Vietnam has vaccinated nearly 1.03 million people against Covid-19, including 5,587 people vaccinated yesterday, May 21. Among them, 28,961 people have received two Covid-19 vaccine shots.
A group of independent experts from the Woolcock Institute of Medical Research, led by Dr. Nguyen Thu Anh, forecast that the total number of Covid-19 cases in the fourth Covid-19 wave could reach 4,500-6,600 depending on the level of social distancing and that the country would not be able to end this outbreak in June.
Many of the new patients in Vietnam were infected with the Covid-19 variants of B.1.167.2 from India and B.1.1.7 from the UK, which spread very quickly.
The experts said outbreaks at hospitals such as the National Hospital for Tropical Diseases and K Hospital can be brought under control by quarantine measures, while the outbreaks at industrial zones, which make Bac Giang and Bac Ninh become the country's biggest Covid-19 hotspots, are more complicated.
The group suggested Vietnam accelerate Covid-19 vaccination and use vaccines that have been proved to be effective against current Covid-19 variants in the country such as Pfizer & BioNTech, Moderna and Astra Zeneca.
TAG: