Life sentence upheld for Dinh Ngoc He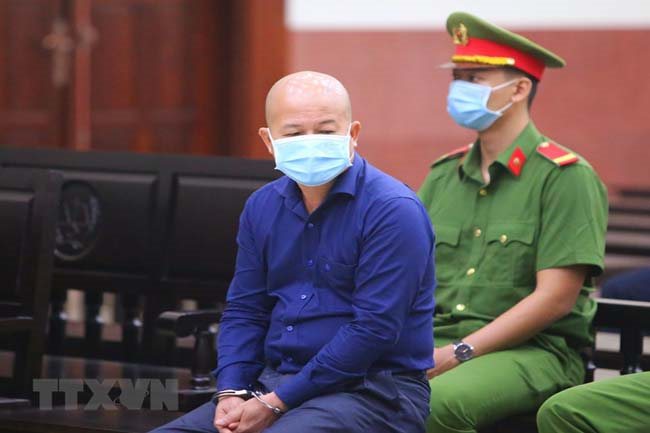 Dinh Ngoc He, former chairman and general director of Thai Son Development and Investment JSC, at the court on May 20 – PHOTO: VNA
HCMC – The Supreme People's Court in HCMC today, May 21, rejected all appeals and upheld jail sentences for four defendants who committed violations at the HCMC-Trung Luong Expressway project that caused losses of VND725 billion to the State.
The court handed down a life sentence to Dinh Ngoc He, former chairman and general director of Thai Son Development and Investment JSC under the Ministry of National Defense, for swindling to appropriate assets and abusing his power and position to influence others for illegal gains, reported Tuoi Tre Online.
Pham Van Diet, general director of Duc Binh Company, was given 10 years behind bars. Along with the previous imprisonment, he will serve a combined sentence of 24 years.
Vu Thi Hoan, director of Yen Khanh Company, was sentenced to seven years in jail, resulting in a combined jail term of 14 years.
Pham Tan Hoang, deputy head of the accounting department at Yen Khanh Company, received six years behind bars for the same charge of appropriating assets by deception.
According to the indictment, through their social relationships, Dinh La Thang got two of He's companies to join and win the bidding for the HCMC-Trung Luong Expressway. Dinh Ngoc He then asked his subordinates to appropriate VND725 billion of the State.
Besides this, he abused his position to ask Licogi 13 Company to sell him a villa at a low price. In return, He promised that he would allow Licogi 13 to execute the project without having to undergo the bidding phase.
The court said that He had falsified the documents of Yen Khanh Company to join the bidding and appropriate the right to collect toll fees on the road. After that, he asked his subordinates to use unlawful means to appropriate toll fees.
The court added that He had the motive to appropriate assets right from the start. The unlawful acts of He and his accomplices took place for a long time.
The expressway is still a State-owned property, so the amount of VND725 billion must be submitted to the Transport Ministry. Accordingly, there is no evidence to prove that He evaded taxes.
TAG: