40 more domestic, five imported Covid-19 cases reported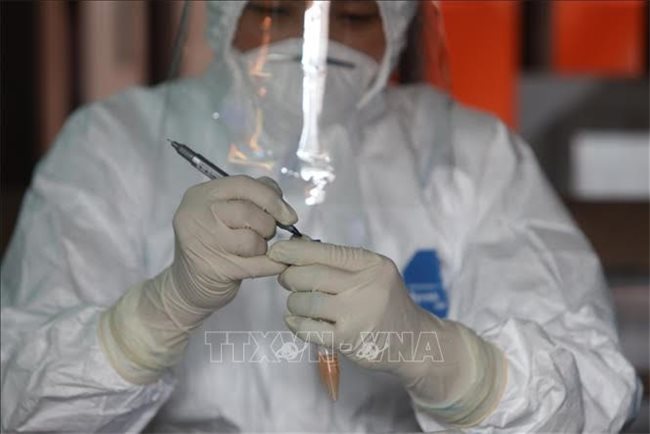 A medical worker takes note of a resident's information after collecting samples for Covid-19 testing. The Ministry of Health has confirmed 45 new Covid-19 cases - PHOTO: VNA
HCMC - The Ministry of Health this evening, May 20, confirmed 45 new Covid-19 cases, including five imported cases and 40 community-transmitted ones.
Of the total domestic cases, 24 were found in Bac Giang, 10 in Bac Ninh, and the remaining in HCMC, Lang Son, Hai Duong and Vinh Phuc.
Meanwhile, four imported cases were detected in Soc Trang Province and another in Ba Ria-Vung Tau.
Thus, the Ministry of Health reported a total of 114 Covid-19 cases today, raising the country's Covid-19 tally to 1,762 since April 27. The pandemic has spread to 30 localities.
Meanwhile, a resident in HCMC's Go Vap District has tested positive for Covid-19 once, according to the municipal Department of Health, although the case has not yet confirmed by the health ministry.
Nguyen Trung Hoa, director of the Go Vap Medical Center, said the center had been informed of the case by the HCMC Center for Disease Control (HCDC).
However, the information about the case has yet to be announced and it is unknown if the case is linked to previous Covid-19 patients in the city.
HCDC today, May 20, called on people visiting food stalls at 287/5 and 289 Nguyen Dinh Chieu Street in District 3 from May 12 to the morning of May 20, and those coming to the Medic Medical Center from 8 a.m. to 2 p.m. on May 20 to make health declarations to have their samples taken for Covid-19 testing.
HCMC Director Nguyen Tri Dung asked local residents to be on high alert after the city reported new locally-infected Covid-19 cases.
He said Covid-19 pathogens might have spread in the community and it is hard to know who are at risk.
Therefore, he called on residents to strictly comply with preventive measures such as wearing masks while stepping out, using hand sanitizers, keeping a safe physical distance from each other, avoiding large gatherings and making health declarations.
In another development, secretary of the Hai Duong Party Committee Pham Xuan Thang, at a meeting on May 20, asked Hai Duong City to practice social distancing measures in accordance with the prime minister's Directive 15.
He asked all residents in the province to refrain from going out except for necessary purposes from 10 p.m. to 5 a.m. on the next day.
Agencies in the province must have their human resources and equipment prepared, with responsibility being placed on heads of units. They should also control closely local laborers working in Bac Ninh and Bac Giang provinces and those from these two localities coming to Hai Duong for work.
Bac Ninh Province has also begun social distancing on Que Vo District with some 200,000 residents, in line with Directive 16, which is stricter than Directive 15.
The district has had two new Covid-19 cases, while it shares the border with Viet Yen District, a major pandemic hotspot of Bac Giang Province with hundreds of Covid-19 cases, in the north.
To date, Bac Ninh has imposed social distancing in line with Directive 16 on Bac Ninh City and Thuan Thanh and Que Vo districts, while Luong Tai and Tien Du districts and Tu Son Town have practiced social distancing in accordance with Directive 15.
TAG: