Quarantine period for immigrants may be shortened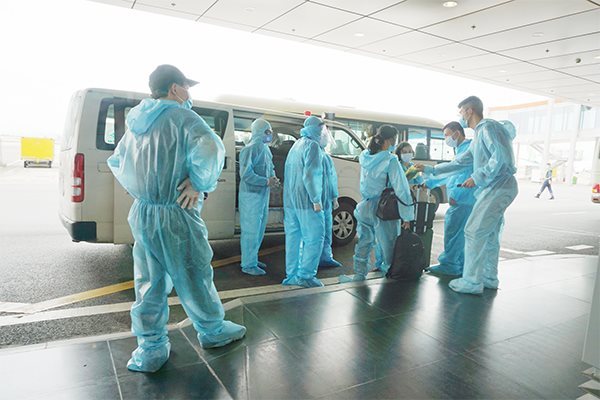 Foreigners enter Vietnam during the pandemic - PHOTO: MINH DUY
HCMC - Vietnam is continuing to strictly monitor people entering the country to prevent the spread of Covid-19, while also considering different testing methods to shorten the quarantine period of those safe from the pandemic and promote travel and trade.
During the meeting of the national steering committee for Covid-19 infection prevention and control on May 19, experts and leaders alike exchanged and discussed new testing guidelines for people entering Vietnam, including those who have been fully vaccinated against Covid-19.
Deputy Prime Minister Vu Duc Dam, head of the steering committee, asked the Ministry of Health to urgently set up and outline instructions combined with different testing methods for people entering Vietnam, with those traveling by air being the first to be considered.
The purpose is to classify travelers to Vietnam so that those qualified for a seven-day quarantine period at quarantine centers can continue to self-isolate at home instead of quarantining for 14 or 21 days at concentrated areas.
Deputy PM Dam stated that doing this would help trade gain back its momentum, all the while ensuring safety for foreign experts and Vietnamese traveling back from other countries as well as alleviating the pressure on quarantine centers.
This is why, within one week at the latest, the Ministry of Health has to publish new instructions and organize testing and medical isolation guidelines according to new regulations. A new system must be created to manage the fees at rooms for quarantine and room conditions in line with pandemic prevention and control measures, otherwise the area will not be considered as a quarantine center.
TAG: