Ministry of Health confirms additional 30 domestic COVID-19 cases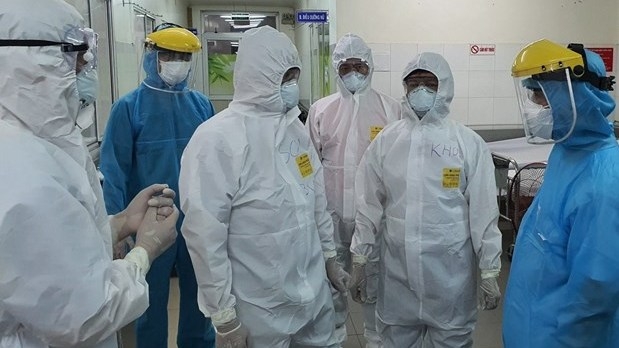 Doctors discuss the treatment of a COVID-19 patient (Photo: VNA)   
NDO/VNA – The number of domestically-transmitted COVID-19 infections in Vietnam has risen to 3,247, with 30 patients confirmed in the past 12 hours to 6am on May 20, according to the Ministry of Health.
Of them, 13 were recorded Bac Giang province, eight in Bac Ninh, one in Lang Son, two in Ninh Binh, one in Thanh Hoa, and five in Hai Duong.
The country has logged 1,473 imported infections so far.
As many as 1,677 COVID-19 cases have been recorded in the nation since it was hit by the fourth COVID-19 wave on April 27.
A total of 121,010 people who came in close contact with COVID-19 patients or arrived from pandemic-hit areas are being quarantined nationwide, including 2,217 in hospitals, 32,348 in other quarantine sites, and 86,445 at their residences.
Among active COVID-19 patients undergoing treatment, 37 have tested negative for the coronavirus SARS-CoV-2 once, 29 twice, and 23 thrice.
* Also this morning, Vietnam confirmed its 38th death related to the COVID-19 pandemic, who had suffered from underlying health conditions.
According to the National Steering Committee for COVID-19 Prevention and Control's Treatment Sub-committee, the 64-year-old female patient was admitted to the National Hospital for Tropical Diseases on May 4 with the diagnosis of blood infection, liver cancer, chronic hepatitis B, and hemophagocytic syndrome.
On May 19, she died of septic shock from liver cancer, chronic hepatitis B, hemophagocytic syndrome, leukopenia, and COVID-19 infection.
TAG: