Covid-19 spreads farther afield, hits Ninh Binh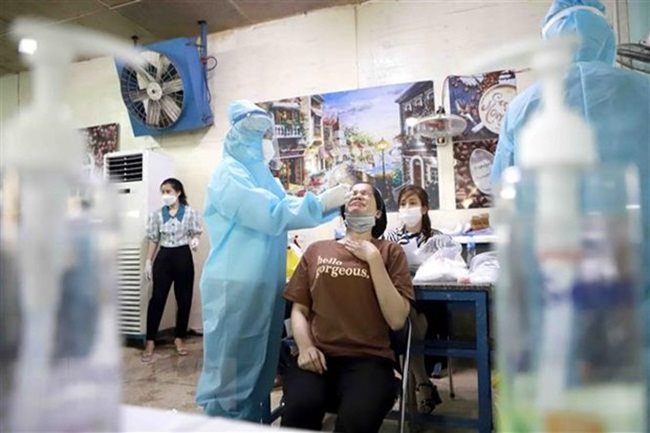 A worker of Vinh Yen Shoes JSC in Vinh Phuc Province has her sample taken for Covid-19 testing. The Ministry of Health has reported 30 fresh domestic Covid-19 cases - PHOTO: VNA
HCMC - The Ministry of Health this morning, May 20, confirmed 30 new domestic Covid-19 cases in six localities, with the northern province of Ninh Binh recording the first patients in the latest outbreak since April 27.
All of the new cases were detected at quarantine centers and areas under lockdown in Lang Son, Ninh Binh, Thanh Hoa, Bac Ninh, Hai Duong and Bac Giang.
Bac Giang continued to have the highest number of Covid-19 infections at 13, followed by Bac Ninh with eight cases. Five others were detected in Hai Duong, two in Ninh Binh and one each in Lang Son and Thanh Hoa.
Especially, the Ministry of Health denied news report that the number of Covid-19 cases in Bac Giang has reached thousands.
Bac Giang province has issued a social distancing order for the entire city of the same name with over 200,000 residents in accordance with the prime minister's Directive 15 starting 3 p.m. on May 19.
Accordingly, events with gatherings of over 20 people indoors; gathering of over 10 people in public places; religious, sports and entertainment activities as well as nonessential services have been suspended. Residents were asked to keep a minimum distance of two meters while communicating.
Meanwhile, Thai Binh will lift the social distancing in the entire province from 12 a.m. today, May 20.
At a meeting of the provincial steering committee for Covid-19 infection prevention and control on May 19, a leader of the provincial Department of Health said the province recorded 17 Covid-19 cases from May 6 to 19 and all of them have been under control.
Seven hotspots in the province have been also controlled strictly.
However, the province will continue suspending nonessential services, such as massage, karaoke, entertainment, beauty care, gym and yoga. Tourist and religious sites will remain shut as well.
In related news, Bac Ninh has suspended the operation of buses, travel coaches and taxis in the province from 0 a.m. today, May 20.
Nguyen Minh Hieu, deputy director of the provincial Department of Transport, said buses and coaches passing through the province are not allowed to stop by.
Coach stations and stopovers in the province have been also closed.
In order to facilitate enterprises, the province allowed vehicles transporting workers and experts to pass through checkpoints. Vehicles carrying cargo, agricultural products, equipment, accessories and materials for production in industrial parks will be allowed to pass the checkpoints if there is only one person in the vehicles without symptoms of cough and fever. The person must test negative for Covid-19 in the three latest days and pledge to leave the province after handing over the cargo.
TAG: