More locales in Bac Ninh, Bac Giang put under medical blockage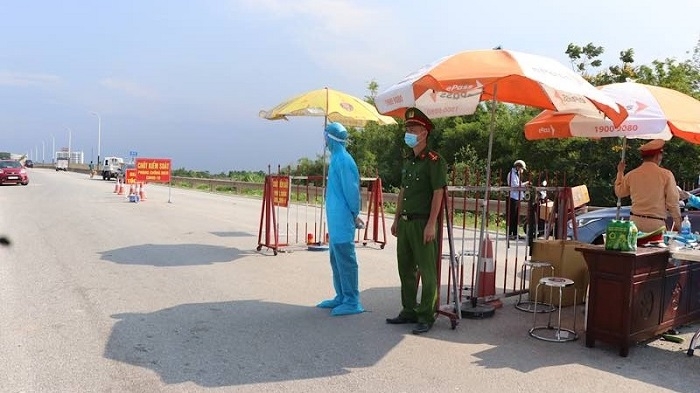 A quarantine checkpoint in Bac Ninh. (Photo: NDO/Thai Son)   
NDO – Local authorities in the northern provinces of Bac Ninh and Bac Giang – Vietnam's largest current COVID-19 outbreak hotspots – have decided to put more localities in medical lockdown in order to stop the spread of the pandemic.
> Measures stepped up against COVID-19 outbreaks in Bac Ninh, Bac Giang
Accordingly, from 2 pm on May 19, Yen Phong District in Bac Ninh is in medical isolation until May 21, to focus on zoning and testing high-risk cases coming from epidemic hit areas.
Standing Vice Chairman of Bac Ninh Provincial People's Committee Vuong Quoc Tuan affirmed that the blockade is to prevent the spread of COVID-19. Depending on the development of the epidemic, local authorities will decide whether or not to extend the order.
Up to now, Bac Ninh has implemented a strict social distancing order on seven out of its eight district-level administrative units.
According to the Bac Ninh Department of Health, from May 5 to noon today, the province has recorded 336 COVID-19 cases. Of which, Thuan Thanh District recorded the highest number of infections with 277.
Currently, the province has reviewed nearly 3,200 close contacts (F1s) of the infections (F0s), along with over 27,000 close contacts to the F1 cases (F2s). Tracing and testing have been boosted with more than 197,000 samples collected from the F1s and F2s, along with other related subjects. More than 42,000 samples have been collected from local workers.
In the neighbouring province of Bac Giang, the chairperson of the Bac Giang Provincial People's Committee has issued a decision on implementing a medical blockage on three additional districts, namely Lang Giang, Luc Nam and Yen Dung, from 0:00 on May 19. Several more residential areas in Bac Giang City – the province's capital – are also to be put into lockdown.
So far, Bac Giang Province has isolated 78 villages and residential quarters, along with four districts including Lang Giang, Luc Nam, Yen Dung and Viet Yen. Strict social distancing orders have been also imposed on 39 communes, wards, townships, villages and residential areas. The province has suspended the operation of the four industrial zones of Van Trung, Quang Chau, Dinh Tram and Song Khe - Noi Hoang.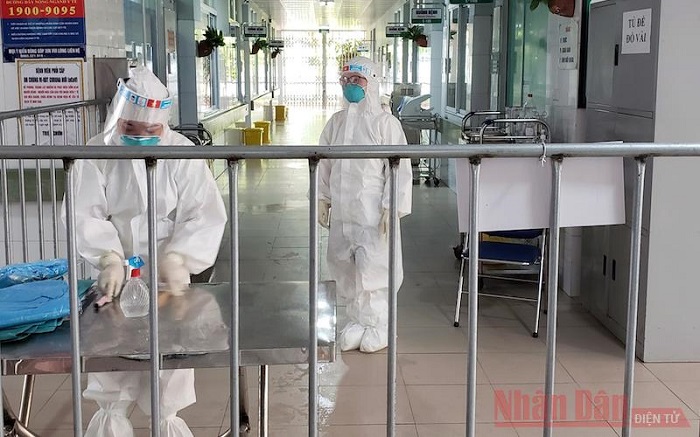 Medical staff working at Field Hospital No. 1 in Tien Du District, Bac Ninh Province. (Photo: NDO/Duy Linh)

Against these complicated outbreaks in the two localities, the military are urgently setting up two temporary hospitals to provide care for COVID-19 patients in Bac Ninh and Bac Giang.
The two facilities, one located on the grounds of the Political Officers College's No. 2 campus in Bac Ninh City – the capital of Bac Ninh Province, and the other at Regiment 831 of the Bac Giang Military Command in Bac Giang's Viet Yen District, are scheduled to begin receiving patients from 5pm today.
Each has 300 beds and close to 120 medical workers. Their capacity can be raised to 500 beds if required.
TAG: