Awards launched to empower women in business community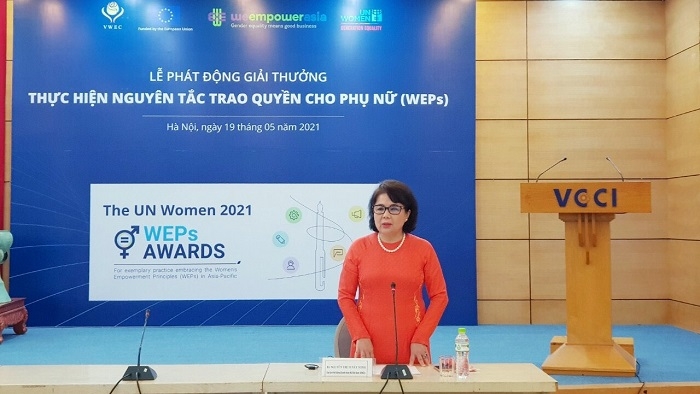 Nguyen Thi Tuyet Minh, Chairwoman of the Vietnam Women Entrepreneur Council, speaks at the awards launch ceremony held virtually on May 19, 2021. (Photo: UN Women Vietnam)   
NDO – The Vietnam Women's Entrepreneur Council and UN Women in Vietnam on May 19 launched the second Women's Empowerment Principles (WEPs) 2021, aimed at empowering women in the business community.
Held for the first time in 2020, the WEP Awards are to encourage and recognise the efforts of companies that promote practices, programmes and actions to create more a gender-inclusive business culture embracing gender equality and women's empowerment, raising awareness and mobilising more companies to implement WEPs within their own business.
The awards feature six categories, including Leadership Commitment on gender equality (leaders over 35 years old), Leadership Commitment on gender equality (leader under 35 years old), Gender-inclusive Workplace Gender Equality, Gender-responsive Marketplace, Community Engagement and Partnerships, and Transparency and Reporting.
Applications are open to all companies, regardless of size or sector, who exhibit good practices promoting gender equality and are suited to one or more of the Award categories and whose CEOs (present or past) have signed or intend to sign the WEPs CEO Statement of Support. Companies are able to apply for up to two of the six awards categories.
Applications will be received from May 31 to July 31 online at www.asiapacificwepsawards.org.
The awards ceremony is scheduled for October 2021 in Hanoi, while the regional WEPs awards will take place as an interactive virtual event later this November.
The awards are part of WeEmpowerAsia (WEA) – a collaborative effort between UN Women and the European Union, which is funding the action under its Partnership Instrument, in line with the One UN Strategic Plan for Vietnam during 2017-2021.
The overall objective of WeEmpowerAsia is that more women lead, participate and have access to enhanced business opportunities and leadership within the private sector in order to advance sustainable and inclusive growth. The programme is being implemented in seven selected middle-income countries in Asia Pacific, namely China, India, Indonesia, Malaysia, the Philippines, Thailand, and Vietnam.
WeEmpowerAsia hopes to mobilise companies to commit to and implement the WEPs, which were formulated and launched by UN Women and the UN Global Compact in 2010. The WEPs are a set of seven principles that support companies in taking a gender-sensitive approach throughout their value chain, starting with corporate leadership and looking across the wider value chain from the workplace, marketplace to the community at large.
TRUNG HUNG
TAG: