National Assembly Vice Chairman extends best wishes on visit to Buddhist leader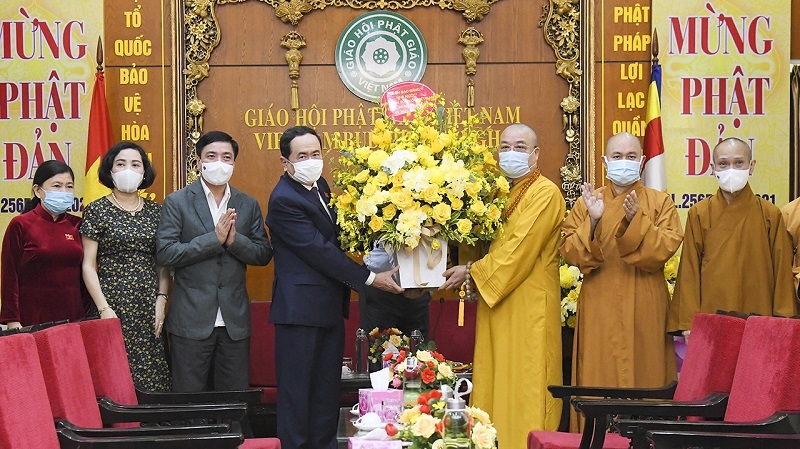 National Assembly Vice Chairman Tran Thanh Man and the Most Venerable Thich Thanh Nhieu (Photo: Quoc Hoi)   
NDO - National Assembly Vice Chairman Tran Thanh Man visited the Most Venerable Thich Thanh Nhieu on May 19 on the occasion of the upcoming birth anniversary of the Buddha and the 40th founding anniversary of the Vietnamese Buddhist Sangha (VBS).
At the meeting with the VBS Vice President, Man extended his best wishes to all Vietnamese Buddhist dignitaries, monks, nuns and laypeople.
The National Assembly leader said he highly appreciates the VBS's significant contributions, especially its call for Buddhist adherents to follow Covid-19 prevention guidelines as well its humanitarian activities to help the poor and those affected by disease and natural disasters.
Noting that the latest Covid-19 outbreak happened at a time when the country is preparing for the National Assembly and People's Council elections, Man expressed his hope that the VBS would encourage Buddhists to go to the polls in a safe manner.
He also expressed his hope that Buddhist leaders who are candidates for the National Assembly and People's Councils will be elected so as to have more voices in conveying the people's wishes to the Party and State.
For his part, the Most Venerable Thich Thanh Nhieu thanked Man for his wishes and stated that the Buddha's birth anniversary is taking place at a joyous time when the country is preparing for the elections and Buddhists are looking to the 40th anniversary of the VBS' foundation.
He added that given the complicated developments of Covid-19, the VBS has requested its local chapters and Buddhist temples across the country strictly comply with the epidemic prevention guidelines of the Ministry of Health and local authorities.
The VBS also sent a circular calling on Buddhists to actively take part in the elections as well as philanthropic activities such as raising funds to help poor people and those affected by the Covid-19 pandemic.
TAG: