At least 6,700 to be tested over new coronavirus case in Ho Chi Minh City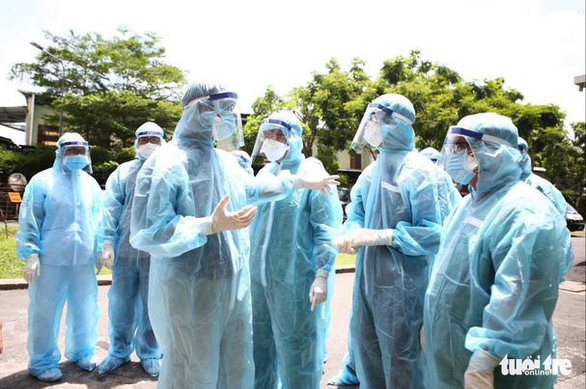 Healthcare providers in Ho Chi Minh City have said they will screen at least 6,700 people after a retest on a local man returned positive for COVID-19 on Tuesday.  
N.Q.N., a 35-year-old employee of Deloitte Vietnam, first tested positive for the coronavirus at Vinmec Central Park International Hospital in Binh Thanh District on Monday after having a fever, cough, and sore throat, a Thu Duc City Medical Center spokesperson told Tuoi Tre (Youth) newspaper on Tuesday morning. 
N., who lives in Block A1 of Sunview Town Apartment Buildings in Hiep Binh Phuoc Ward, Thu Duc City, which is under Ho Chi Minh City, retested positive for COVID-19 at the Ho Chi Minh City Hospital for Tropical Diseases on Tuesday afternoon, said Dr. Dinh Thi Hai Yen from the municipal Center for Disease Control. 
The patient is likely to have caught the virus recently, according to an analysis of clinical signs and test results.
Health authorities say they will test 6,000 people at Sunview Town in relation to this infection, which has yet to be officially logged by the Ministry of Health.
The patient lives with his mother, wife, and two children in an apartment on the 18th floor of Block A1, according to an epidemiological investigation.
N. has never left Ho Chi Minh City in the past month.
He said he could not remember how many people he had come into contact with.
Among his contacts was an Indian expert who was not a COVID-19 patient.
Health workers have sectioned off the apartment block, disinfected it, and proceeded with contact tracing.
They have also cordoned off the workplaces of N. and his wife, Deloitte Vietnam and Datalogic in District 3 and Thu Duc City, respectively.  
At least 700 people at both companies will be screened for COVID-19, Tuoi Tre journalists reported from the scene.
Vietnam has so far reported 4,464 patients, including 86 local cases announced at noon on Tuesday.   
Recoveries have reached 2,668 while 37 virus-related deaths have been recorded.
The country has confirmed 1,425 domestic cases in 28 provinces and cities since April 27, when it began to deal with a fourth wave following around a month of no known community transmission, according to the health ministry's data.
Ho Chi Minh City has registered only one case, except for N., in this bout.
The health ministry will give the final COVID-19 update for Tuesday at 6:00 pm.
TAG: