Vietnam adds 86 cases to Covid-19 tally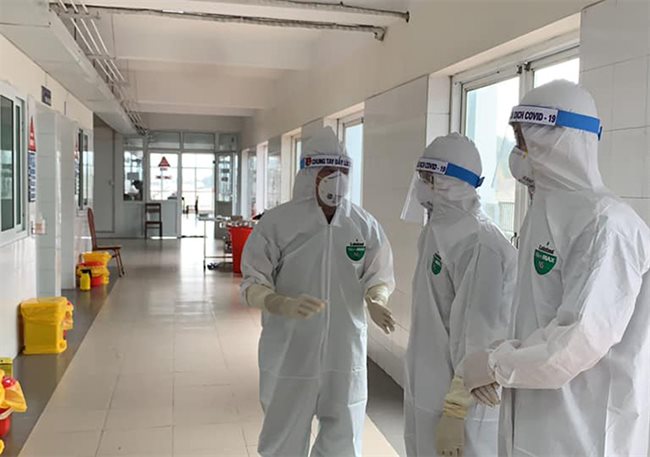 Medical workers are seen at a quarantine center. Vietnam reported 86 new Covid-19 cases on Tuesday afternoon – PHOTO: MINISTRY OF HEALTH
HCMC – The Ministry of Health confirmed 85 new locally transmitted Covid-19 cases, mostly in Bac Giang Province, and one imported case this afternoon, May 18, sending the country's Covid-19 tally to 4,464.
Bac Giang recorded 63 new domestic infections, which were linked to Quang Chau, Van Trung and Dinh Tram industrial zones in Viet Yen District. The northern province has reported 474 locally transmitted cases since April 27, making it the hardest hit locality in the fourth Covid-19 wave.
Among the remaining cases, the Health Ministry confirmed seven cases in Hanoi, four in Dien Bien, three in Bac Ninh, three in Hai Duong and two in Danang. Haiphong, Hung Yen and Ha Nam had one new case each.
All of them were detected at quarantine centers or areas that are currently under lockdown.
The imported case is a Korean man that arrived in Binh Dinh Province on May 16. He is being treated at Danang Lung Hospital.
After nearly a month of the fourth outbreak, 1,425 domestic infections have been detected in 28 cities and provinces, the toughest Covid-19 wave Vietnam has ever had to face.
The Ministry of Health has established a special team in charge of working closely with Bac Giang and Bac Ninh provinces, the country's biggest Covid-19 hotspots at prevent, to help the two provinces fight off the pandemic. The team is led by Deputy Minister of Health Nguyen Truong Son.
Bac Giang has temporarily shut down four industrial zones in Viet Yen District, which are home to hundreds of enterprises with some 136,000 workers, to curb the spread of Covid-19. Most of the province's Covid-19 patients are workers of industrial zones.
The province has also imposed social distancing on the entire Viet Yen District and the Noi Hoang, Tien Phong and Yen Lu communes of Yen Dung District.
The Vietnam Military Medical University today sent 40 officers together with four containers of medical equipment to Bac Ninh and 99 officers to Bac Giang to help the two provinces deal with Covid-19.
The university has also set up a Covid-19 testing facility to quickly detect new Covid-19 cases in these two Covid-19 hotspots.
TAG: