Bac Ninh struggles to prevent Covid-19 deaths as 20 patients in worse condition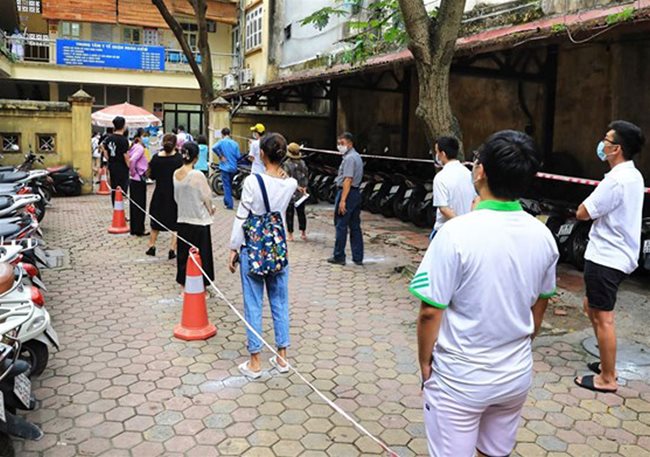 Residents stand in line for Covid-19 testing. Bac Ninh is struggling to minimize Covid-19 deaths as 20 patients have gotten worse – PHOTO: VNA
HCMC – Bac Ninh Province is adopting multiple ways to prevent the spread of Covid-19 and Covid-19 deaths as 20 patients receiving treatment at the Bac Ninh General Hospital are in severe condition, with two of them on ventilators.
The provincial steering committee for Covid-19 infection prevention and control asked the relevant agencies and hospitals to closely monitor patients with severe underlying health conditions and immediately transfer them to the national general hospitals if they get worse.
Up to now, the province has taken 130,774 samples for Covid-19 testing and is quarantining some 26,460 people at healthcare centers, quarantine facilities, hotels and their homes.
Apart from ordering a suspension on employing workers from Bac Giang Province from today, May 17, to curb the spread of the disease and minimize infections at industrial parks, Bac Ninh Province also told the competent forces to regularly check compliance with Covid-19 safety measures at industrial zones.
Since April 27, Bac Ninh Province has confirmed 252 locally-infected cases, the local media reported.
In related news, three doctors infected with Covid-19 and transferred from the Phuc Yen General Hospital in Vinh Phuc Province to the national hospital for tropical diseases became severely ill.
The three are receiving oxygen support, according to the Subcommittee of Treatment under the National Steering Committee for Covid-19 Infection Prevention and Control.
TAG: