Six more Covid-19 cases detected in Hanoi, Hung Yen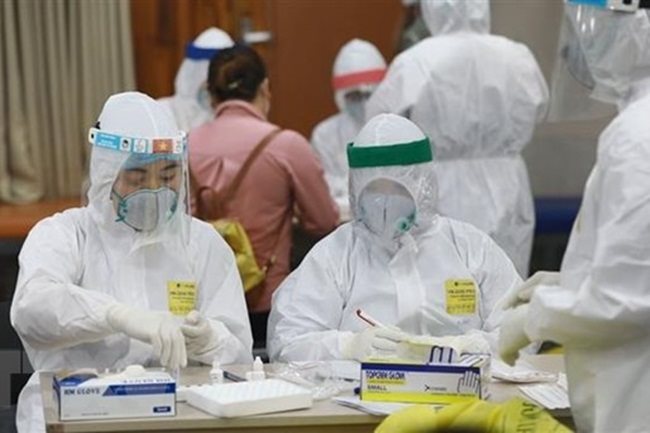 Medical workers take samples from workers for Covid-19 testing. Six more Covid-19 cases have been reported in Hanoi and Hung Yen – PHOTO: VNA
HCMC – The Ministry of Health reported six new Covid-19 cases this afternoon, May 16, including five at the Tan Trieu campus of K Hospital in Hanoi and another case in Hung Yen Province.
The Tan Trieu campus of K Hospital is under lockdown and the five new cases are being quarantined at the campus, while the case in Hung Yen is being quarantined at a centralized quarantine center.
This morning, the Hanoi Center for Disease Control reported five Covid-19 cases in centralized quarantine centers, which were not confirmed then by the health ministry.
Of them, two were linked to K Hospital, two were imported cases who returned to Vietnam from Japan, and another had close contact with Nguyen Van Thanh, former director of the Hanoi Construction Investment Company No.2.
In addition, the Ha Nam Center for Disease Control this morning reported four Covid-19 cases in Cong Ly Commune, Ly Nhan District with their sources of infection remaining unknown. Meanwhile, the Bac Ninh Department of Health confirmed four new cases, who are under quarantine.
With the latest cases confirmed, Vietnam has today seen 135 Covid-19 infections, including 85 patients in Bac Giang Province and 23 in Bac Ninh Province nearby.
In another development, the northern province of Bac Giang has begun social distancing in the entire Viet Yen District with more than 200,000 residents from 6 p.m. on May 15.
The district has suspended events with over 20 people and banned gatherings of over 10 people in public places.
Viet Yen has become a pandemic hotspot of Bac Giang Province as the Van Trung and Quang Chau industrial parks have reported hundreds of Covid-19 cases and the pandemic has spread to nine out of 17 communes in the district.
In the latest Covid-19 outbreak since April 27, Bac Giang has recorded 314 patients, the highest number in the country.
As for the Covid-19 vaccination, more than 977,000 people across the country have been injected with the vaccine, including over 22,500 people receiving two shots.
TAG: