In Vietnam's Thua Thien-Hue, monk helps students prepare for life-deciding exam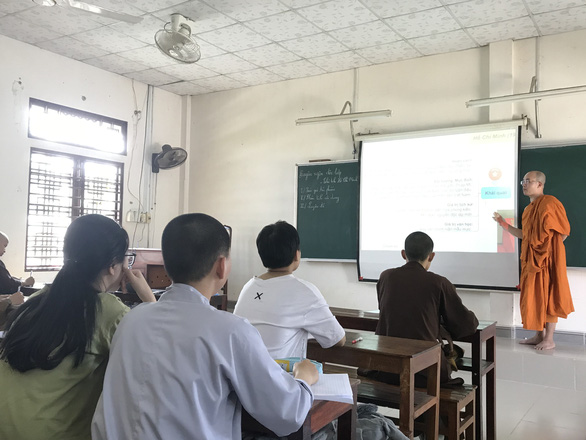 A young monk from Thua Thien-Hue Province has been tutoring students in Vietnamese literature in preparation for Vietnam's national high school graduation examination for free to nurture his passion for teaching. 
Every Thursday and Sunday, monk Minh Giang of Huyen Khong Pagoda in Huong Tra Town holds an afternoon class for around 20 students.
At the same time, via Facebook and YouTube, hundreds of other students nationwide attend his virtual lecture. 
Before being ordained, monk Minh Giang used to teach classes for vulnerable children in Hanoi.   
After entering the monastic life, he was urged to do something that nurtures his passion for teaching and helps students. 
"At first, I taught only monks and nuns and shared videos of my lectures on YouTube and Facebook which were warmly welcomed by students," said monk Minh Giang. 
"Some people suggested that I 'take one step further' by opening an in-person, public class.
"I decided to give a try.
"It was also when students started studying online due to COVID-19."
To maintain the class, monk Minh Giang has spent time on developing the syllabus, doing in-depth research and also updating his lectures to make them more insightful and relevant. 
Therefore, he requests his students to be hard-working, proactive, and independent in learning. 
"As I am young, I want to devote my time and energy to serving people, especially in helping students pass the exam," he said. 
"It is my happiness.
"I am planning to offer other courses on history, geography, and civic education in the near future."
The national high school graduation examination is held annually by the Ministry of Education and Training.
Students consider it a life-changing exam because it is also used as a college placement test.
TAG: