Vietnamese man fined $324 for leveling hillside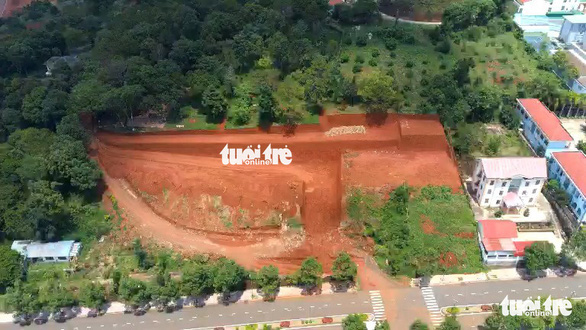 Authorities in Gia Nghia City in the Central Highlands province of Dak Nong have levied a VND7.5 million (US$324.5) fine on a local man for flattening part of a hill.
Dak Nong Province authorities said Nguyen Van Binh violated local land laws when he illegally shaved 2.5 meters off the height of a 768-square-meter area on a hill in Gia Nghia.
In 2004, the provincial People's Committee offered a 50-year lease to Vietnamese Cuong Thinh Co. Ltd. that would allow the company to build a hotel and restaurant on a five-hectare plot on a local hillside.
Cuong Thinh Co. Ltd. then transferred the lease to Binh in 2017.
In September 2019, the provincial Department of Construction permitted Binh to build several business establishments on 445 square meters of the five-hectare land lot.
The project was only approved for a five-year period and included a clause that stated all constructions would be dismantled should the state choose to implement any other project on the site.  
Despite having clear parameters outlined in his permit, Binh began leveling a 768-square-meter area outside of the permitted zone.
In response, the People's Committee of Gia Nghia City imposed VND7.5 million fine on Binh and required that he restore the land to its original state, the city's natural resources and environment division announced on Tuesday.
The People's Committee also threatened to revoke Binh's right to the land should he refuse to comply with the penalty. 
Local residents criticized the penalty as too lenient, claiming such a modest fine fails to deter others from committing similar violations. 
Defending the People's Committee, deputy head of Gia Nghia City's natural resources and environment division Nguyen Thanh Hoang Vu affirmed that the sanctioning decision was handed down in accordance with government regulations which specify a fine of VND5-10 million ($216-432) for administrative violations in land use.
"We cannot comment on whether or not we agree to the fine because the legal framework is already in place," said Vu. 
TAG: