Vietnam has 30 new coronavirus infections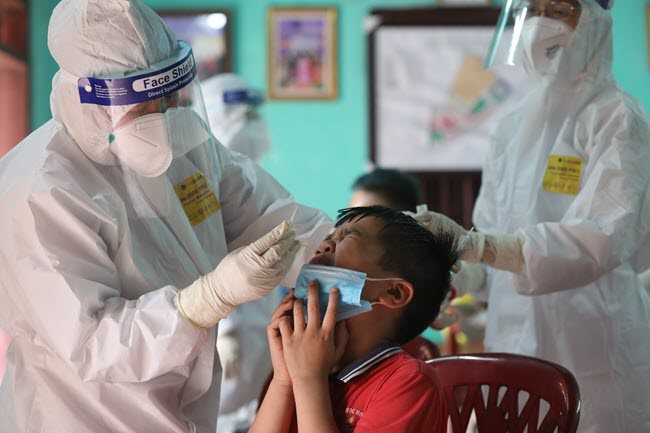 A medical worker is seen collecting samples of a kid for Covid-19 testing. Vietnam reported 71 new locally-infected cases of Covid-19 today, May 11 – PHOTO: VNA
HCMC – Vietnam's Covid-19 infections rose by 30 this evening, May 11, with three imported cases quarantined upon their arrival in the country and 27 community-infected cases, said the Ministry of Health.
All of the fresh locally-infected cases were detected in quarantine centers and areas being locked down earlier. Bac Ninh Province reported 20 cases, while Hanoi City, Bac Giang and Thai Binh provinces each recorded two cases, and Thua Thien-Hue Province had one case.
Overall, 71 fresh locally-infected cases were confirmed today, sending the country's community transmission tally during the latest Covid-19 resurgence since April 27 to 529 cases in 26 provinces and cities, with Hanoi taking the lead at 148 cases, followed by Bac Ninh at 119 cases.
Under the national Covid-19 vaccination program, 25,057 more people were vaccinated on May 10, bringing the number of vaccinated people in the country to over 892,000.
In related news, eight people in Quang Ngai Province had common severe reactions such as chest pain, dizziness, and rapid heartbeat after they were vaccinated against Covid-19, Pham Minh Duc, deputy director of the provincial Department of Health, confirmed today, reported VietnamPlus.
Fortunately, these cases were then promptly handled and their health conditions are now stable. They have returned to work, he said.
Besides this, the local health authority in Quang Ngai recorded 14.9% of the vaccinated people in the province developed mild post-vaccination symptoms.
Further, following new cases by community transmission, the Danang City Department of Health this afternoon issued an urgent warning for people over the city's five locations linked to coronavirus cases. People have to contact the nearest medical center for Covid-19 preventive measures if they had visited the New Phuong Dong bar from April 24 to May 7, the Amida beauty salon and the Fhome residential building from April 29 to May 7, a wedding party held from 17:30 to 19:45 at Phi Lu 2 restaurant on May 1, and the Son Tra Medical Center on May 10.
Similarly, Lao Cai Province's Sa Pa Town is looking for people who had visited 16 tourist spots in Sa Pa, a popular destination in Vietnam, between April 30 and May 2 as a coronavirus patient had been to these places. People linked to these locations were asked to contact medical centers for health declarations and Covid-19 preventive measures.
TAG: