Sixteen more community-infected cases of Covid-19 confirmed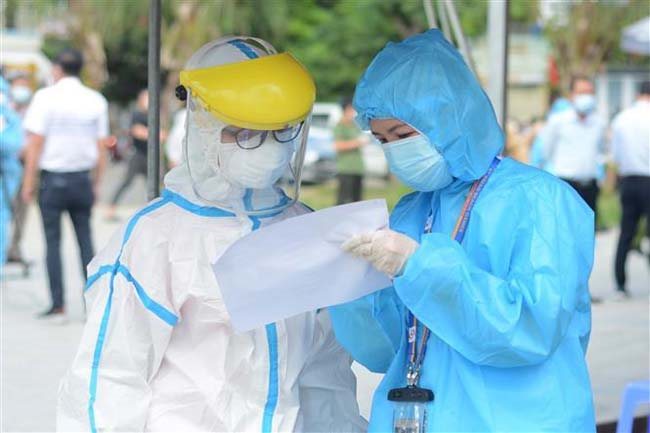 Two medical workers check a list of people taking the Covid-19 test. The Ministry of Health reported 18 fresh Covid-19 cases this afternoon, May 11 – PHOTO: VNA
HCMC – The Ministry of Health reported 18 fresh Covid-19 cases this afternoon, May 11, including two imported cases and 16 cases by community transmission detected in locations that had been put under lockdown earlier.
Of the new infections, Bac Giang Province recorded 10 cases, Hanoi City and Quang Tri Province each had two cases, while Bac Ninh and Hai Duong provinces each reported one case.
The 11 cases in Bac Giang and Bac Ninh were related to the outbreak at the National Hospital for Tropical Diseases in the city's Dong Anh District. The other cases in Hai Duong and Quang Tri had close contact with previously confirmed coronavirus patients.
In Hanoi, the two new patients were linked to K Hospital.
The latest cases have raised the country's community transmission tally during the latest resurgence of Covid-19 since April 27 to 501 cases in 26 provinces and cities, with the capital city of Hanoi being the hardest hit by the virus with 146 cases.
In related news, the Hanoi Center for Disease Control this afternoon also reported two suspected cases who were taking care of their family members under treatment at the National Hospital for Tropical Disease in the city's Dong Anh District and K Hospital, which are now among the country's biggest coronavirus hotspots in this resurgence.
The health authority of Bac Ninh reported 17 more suspected cases in Thuan Thanh District, while the central city of Danang reported three suspected cases.
Further, the provincial government of Bac Giang today asked the local police to launch an investigation into the cause of the Covid-19 transmission at the Van Trung Industrial Park that resulted in tens of workers being infected with the disease, reported VnExpress.
The investigation is aimed at identifying the responsibilities of and tackling organizations and individuals that contributed to the spread of the disease from the Shin Young and SJ Tech companies to the community, said a local official.
The outbreak was detected at Shin Young Company on May 8 after local authorities reported that one worker tested positive for the virus.
This morning, the Health Ministry confirmed five more Covid-19 cases who are workers at the industrial park, raising the country's total locally-transmitted cases in this resurgence to 62 cases. Local competent forces discovered over 4,500 people who were linked to these cases.
TAG: