Hanoi bans gatherings of over 10 persons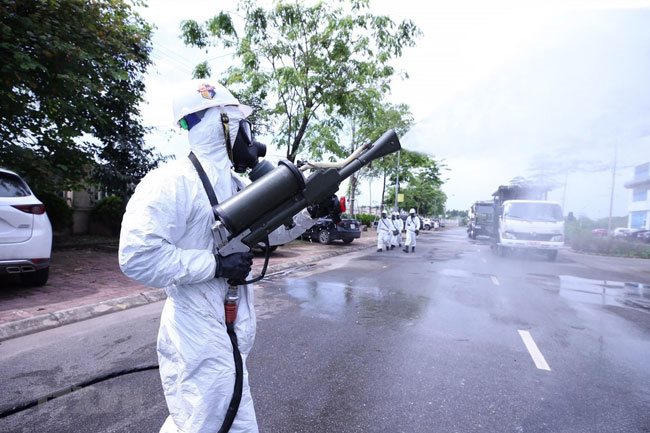 A medical worker sprays disinfectants. The Hanoi government today, May 11, issued a directive banning gatherings of more than 10 people in public places – PHOTO: VNA
HCMC – The Hanoi government today, May 11, issued a directive banning gatherings of more than 10 people in public places and ordering strict compliance with Covid-19 safety protocols to prevent the spread of the virus.
In line with the directive, eateries must arrange seats at least two meters apart, while restaurants and food stalls around hospitals were asked to provide take-away services, the local media reported.
The areas surrounding hospitals which have detected Covid-19 cases must shut down eateries, convenience stores and boarding houses until further notice, according to the directive.
Besides, the municipal government also ordered the suspension of non-essential meetings and events that attract many people.
Due to the complicated and unpredicted development of Covid-19, coupled with the rapid transmission of the UK and Indian variants, Hanoi Chairman Chu Ngoc Anh called on agencies and residents to focus on the fight against the virus with the spirit of "fighting the epidemic like fighting invaders."
To stop the spread of Covid-19 from the coronavirus hotspots in the city, the competent agencies, departments, districts and residents should adopt drastic safety measures.
The competent forces were tasked with closely monitoring quarantine centers and locked areas and promptly employing effective measures when they discover Covid-19 cases.
TAG: