Major hospitals asked to improve Covid-19 testing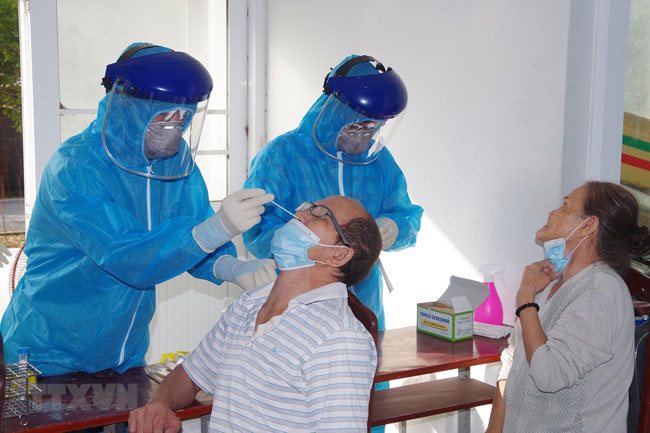 A medical worker takes samples from a man for Covid-19 testing. Major hospitals have been asked to improve Covid-19 testing – PHOTO: VNA
HCMC – The national steering committee for Covid-19 infection prevention and control has written to hospitals nationwide asking them to strictly practice social distancing and improve Covid-19 testing to curb the spread of the virus.
Due to the complicated development of Covid-19, the disease caused by the coronavirus, several hospitals have been locked down. Hospitals are places to receive and treat patients and if a Covid-19 patient is not discovered at the hospital, serious consequences will ensue, according to the national steering committee.
Apart from practicing social distancing and conducting tests on employees, patients and caregivers, the hospitals were told to make a list of patients, classify them according to their health conditions and consider discharging or transferring them if they test negative.
Besides, the hospitals were also asked to restrict admitting patients who do not need emergency treatment and to set up a buffer zone for medical examination and treatment for patients who receive emergency surgery while waiting for Covid-19 test results.
At a working meeting with HCMC Chairman Nguyen Thanh Phong on May 10, Dr Nguyen Tri Thuc, director of Cho Ray Hospital, voiced his concerns over the source of Covid-19 infections from patients who are admitted for emergency treatment.
Doctors occasionally focus on treating patients in critical conditions as quickly as possible, while forgetting to adopt basic anti-virus measures, the local media reported, citing Thuc.
Besides, the hospital is facing difficulties in controlling the risk of infections from service providers, including medicine and food deliverymen, and ambulances without business licenses, said Dr Thuc.
Addressing the meeting, HCMC Chairman Phong asked the municipal Department of Transport to work with the local authorities and the hospital to handle unlicensed ambulances.
Phong also said that Cho Ray Hospital should form a quick response team to fight Covid-19 infections.
At the meeting, People's Hospital 115 also proposed providing it with Covid-19 test kits, ventilators and medical equipment so that it can cope with the disease in case many Covid-19 cases are detected.
As of 4.00 p.m. on May 10, the country had seen 892,454 people, mainly medical workers, police officers and soldiers, get vaccinated against Covid-19.
TAG: