Just VND43 billion of VND16-trillion Covid-19 relief aid disbursed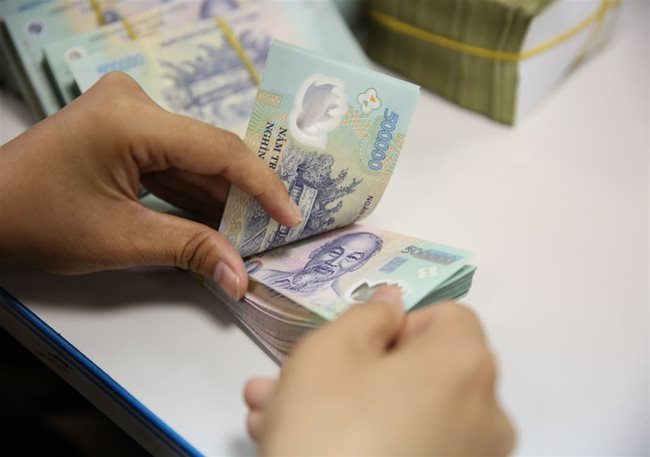 A bank teller counts Vietnamese banknotes. The Vietnam Bank for Social Policies disbursed nearly VND43 billion from the Government's VND16-trillion credit package to support Covid 19-hit employers - PHOTO: THANH HOA
HCMC – The Vietnam Bank for Social Policies disbursed just some VND43 billion from the Government's VND16-trillion credit package to support Covid 19-hit employers, according to the State Bank of Vietnam (SBV).
SBV's Credit Department for Economic Sectors told Tuoi Tre Online that 245 businesses nationwide managed to borrow non-collateral loans with a 0% interest rate under this relief aid program.
The total amount of money that these businesses were disbursed by the Vietnam Bank for Social Policies reached almost VND43 billion to pay the salaries of their 11,276 employees who have been furloughed due to the public health crisis.
As of April 15 this year, 11 borrowers had paid off their debts. The relief aid program's outstanding balance remained at some VND39 billion with 234 current borrowers.
Overall, of the VND16 trillion of the package, the amount of loans disbursed accounted for a mere 0.27%.
Earlier, to cushion the negative impact of the pandemic, the Ministry of Labor-Invalids and Social Affairs had proposed the then prime minister issue Decision No.15 in late April, 2020, on implementing this relief aid program to support struggling employers with wage payments.
However, just one firm was determined as eligible for the zero-interest loan program during the five months of its deployment. Then, the firm canceled the loans as it managed to arrange financial sources to pay its employees, said SBV.
Commenting on the reasons hindering businesses from accessing the interest-free loans, the Vietnam Chamber of Commerce and Industry said that the program set out many tough requirements. For instance, one of the stringent requirements was that a firm had to prove its financial hardships and inability to pay wages due to Covid-19.
Then, to enable more affected businesses to approach the soft loans, the then prime minister in mid-October last year issued Decision No.32 adjusting Decision No.15 to relax the loan requirements.
Specifically, to get the loans, a firm has to prove that its turnover in the first quarter of 2020 declined 20% quarter-on-quarter, or its revenues in the previous quarter fell 20% versus the 2019 figure.
Due to the impact of the pandemic, 101,000 businesses in the country withdrew from the market last year. Of them, nearly 47,000 units registered to suspend operations, up over 62% against the 2019 figure, according to data from the Ministry of Planning and Investment.
TAG: