Worst heat wave since early 2021 hits northern region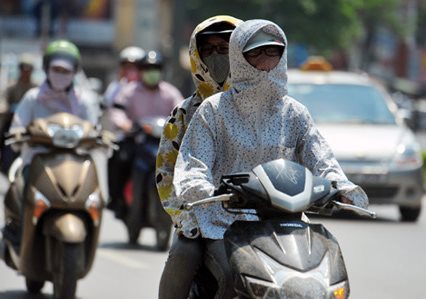 Commuters protect themselves from the scorching heat and ultraviolet rays with masks, sweaters and gloves. A severe heat wave is forecast to hit the northern region until May 16 - PHOTO: VNA
HCMC – The northern region is experiencing the most severe heat wave since the beginning of this year, with the highest temperatures ranging from 35 to 39 degrees Celsius, according to the National Center for Hydrometeorological Forecasting.
From May 8 until May 10, the northwestern region including Son La, Lai Chau, Dien Bien and Hoa Binh provinces recorded high temperatures, ranging between 35 and 39 degrees Celsius during the daytime. Hanoi and other areas in the north experienced lower temperatures, from 32 to 34 degrees Celsius.
The heat wave is a result of a hot low-pressure area that is developing, the center said.
From tomorrow, the heat wave is forecast to cover the entire northern region and most of the central part. The northwestern region and provinces from Thanh Hoa to Thua Thien Hue may suffer from extreme heat of 39-40 degrees Celsius. The highest temperatures in Hanoi would rise to 35-37 degrees Celsius.
In these regions, temperatures of over 35 degrees may last for up to 17 hours per day, while the lowest daily relative humidity would range between 45% and 60%.
Some hydrometeorological experts said the real temperatures would be much higher, depending on the geographical situation, wind direction, urban density and green coverage. The central business district of Hanoi may suffer from the urban heat island effect, making it hotter than outlying areas.
Due to the scorching weather, the ultraviolet index in the northern region is forecast to rise to extreme levels in the coming days, with harmful effects on the human skin and eyes.
Hoang Phuc Lam, deputy director of the National Center for Hydrometeorological Forecasting, warned this heat wave would last until May 16.
Meanwhile, the Central Highlands and southern regions will experience sunlight during the daytime and thunderstorms and rains in the evening and at night until May 13. Rainstorms may bring lightning and whirlwinds in the Central Highlands, the center warned.
TAG: