Vietnam's Covid-19 community transmission tally increases by 28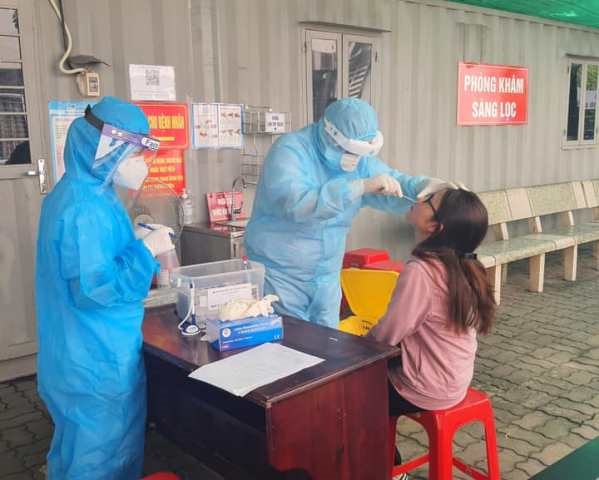 A medical worker uses a swab to collect samples of a woman for Covid-19 testing at a local hospital. The Ministry of Health confirmed 28 more cases of Covid-19 by community transmission this morning, May 11 – PHOTO: MOH
HCMC – The Ministry of Health confirmed 28 more cases of Covid-19 by community transmission this morning, May 11, raising Vietnam's total number of locally-infected cases during the latest resurgence of Covid-19 since April 27 to 486 in 26 provinces and cities nationwide.
The latest cases were detected in 27 areas and one hospital that had been put under lockdown earlier. Bac Ninh Province reported the highest number of cases at 13, Vinh Phuc Province recorded seven cases, Bac Giang Province had five cases. The National Hospital for Tropical Diseases in Hanoi's Dong Anh District, Lang Son and Hai Duong provinces had one case each.
All of the new cases in Bac Ninh were linked to the outbreak in Mao Dien Commune, Thuan Thanh District. Also, the case in Hai Duong had traveled to this commune.
In Vinh Phuc, three of the seven cases are employees of Hoa Sen Healthcare Center. This healthcare center and the Sunny Club are currently the northern province's biggest coronavirus hotspots during this latest resurgence.
The case at the Hanoi-based hospital is a medical worker, while the five patients in Bac Giang were in connection with the outbreak at SJ Tech Company.
Currently, the capital city of Hanoi takes the lead in community transmission in the latest coronavirus wave at 144 cases, with 80 recorded at the National Hospital for Tropical Diseases in Hanoi's Dong Anh District and 13 others at K Hospital. Bac Ninh becomes the second worst hit locality with 98 infections, followed by Vinh Phuc with 60, Danang with 53.
Given the complicated Covid-19 situation with around 10 hospitals in the country being locked down or quarantined due to Covid-19, the Ministry of Health on May 10 asked the heads of the hospitals under the ministry, hospitals affiliated to universities, and the highest level hospitals to ramp up social distancing efforts in the hospitals, make lists and carry out triage of patients, consider to discharge patients or transfer them to lower-lever hospitals.
These units were told to restrict receiving non-emergency cases and set up separate areas for emergency patients while waiting for their Covid-19 testing results.
Besides this, they were asked to perform Covid-19 tests for all medical workers, patients and their relatives (in case they are allowed to stay at the hospital), to transfer patients to other hospitals after their Covid-19 testing results came out negative.
TAG: