Hanoi's ancient folk heritage to be restored
Cultural and historical experts are making efforts to restore nghe (shrine) Dang Dong in Hanoi, an ancient folk relic.
Dang Dong Shrine (Thach Ban District, Long Bien District, Hanoi) is defined as a popular cultural heritage identified with the rural life of the capital. However, it is falling into oblivion and deteriorating.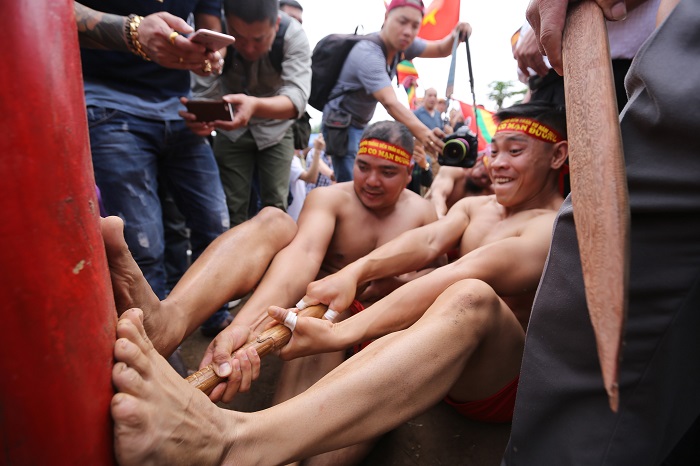 The sitting tug-of-war is now replaying in Tran Vu Temple, Thach Ban Ward, Thach Ban District, Long Bien District, Hanoi. Photo: Nguoiduatin.vn
The sitting tug-of-war in Tran Vu Temple, also in Thach Ban Ward, recognized as a world heritage by UNESCO has to do with nghe Dang Dong. It used to be held every year in March of the lunar calendar in nghe Dang Dong. But since the shrine collapsed, its celebration was moved to nearby Tran Vu Temple, according to the elders in the village.
In fact, the residents still keep in mind nghe Dang Dong's foundation, scale, and architecture. Apart from worshiping the God Linh Hue Dai Vuonge, other religious items for worship are still kept at the place. The God is now venerated in nearby Tran Vu temple.
"Based on what we have in the place at the moment and in the memory of the local people, scientists can totally restore a full foundation, scale and architecture of nghe Dang Dong", Dr. Nguyen Duc Nhue, Deputy Director of the Institute of History affirmed.
The local authority also said that they would consult with cultural experts to complete documents and submit to higher-level agencies for the restoration proposal of nghe Dang Dong in the coming time.
Hanoitimes
TAG: