Saigon alley cleared as hundreds of suspected coronavirus patient's contacts test negative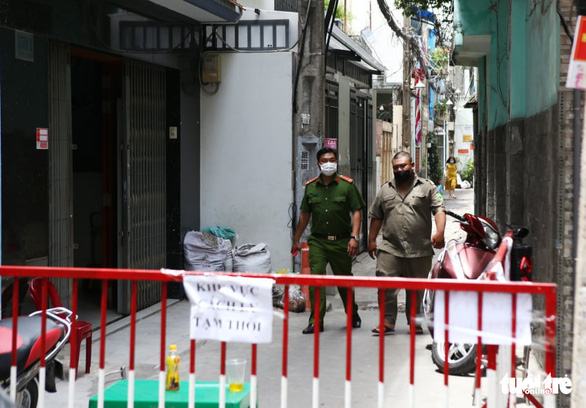 The isolation of an alley in Ho Chi Minh City's District 3 due to COVID-19 was lifted on Sunday morning after 342 contacts of a suspected patient already tested negative for the novel coronavirus, health authorities said the same day.
The number includes 59 direct contacts of T.H.T., a 22-year-old man from An Giang Province, who retested positive for the virus earlier this week.
The remainder were T.'s indirect contacts.
Following the results, the Ho Chi Minh City Center for Disease Control (HCDC) decided to remove the lockdown of Alley 359 on Le Van Sy Street, Ward 13, District 3, where T. had stayed. 
T. first tested positive for the virus in quarantine on February 27, two days after he entered Vietnam through the Ha Tien border gate in southern Kien Giang Province.
After treatment, T. was discharged from hospital and was isolated in Ha Tien City for another 14 days.
After getting two negative tests on April 3 and 9, the young man ended his isolation period on April 10.
Nearly a month later, T. was found positive again when he received a coronavirus test on Thursday as a procedure for his exit from the country.
He has been sent to centralized quarantine in Ho Chi Minh City since the positive retest.
This is just a positive retest, Nguyen Tan Binh, director of the municipal Department of Health, said this week.
The risk of T. spreading the pathogen to others is low, the HCDC said on its verified Facebook page on Friday.
Patients retesting positive after having recovered from COVID-19 are not contagious as restests simply pick up the remains and fragments of the virus in the body, Nguyen Van Kinh, former director of the National Hospital for Tropical Diseases in Hanoi, once said.
""Epidemic investigations in China, Vietnam, and Japan have shown that patients declared recovered and later testing positive did not pass the pathogen to others, even when they had contact with their kin," Kinh elaborated.
Vietnam has documented 3,230 local and imported COVID-19 cases as of Sunday morning, with 2,602 recoveries and 35 deaths, according to the Ministry of Health.
The country has recorded 256 local infections in 24 provinces and cities, including one case on Ho Chi Minh City, since April 27 after having spent about a month logging no transmission in the community.
TAG: