NA Chairman attends groundbreaking ceremony for upgrade of National Highway 10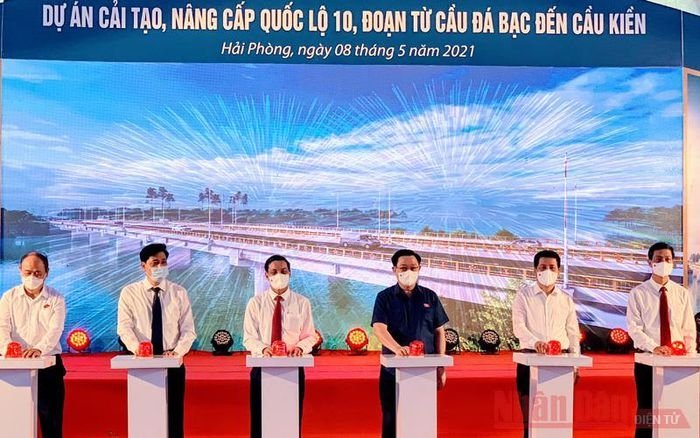 NA Chairman Vuong Dinh Hue attends the groundbreaking ceremony for the upgrade of National Highway 10   
NDO - Chairman of the National Assembly Vuong Dinh Hue attended a groundbreaking ceremony for the upgrade of a section of National Highway 10 from Da Bac Bridge to Kien Bridge in Hai Phong City on May 8.
National Highway 10 running through Hai Phong will have a length of over 52km including a 13.4km section from the Da Bac Bridge to the Kien Bridge.
The upgrade of the 13.4km section will see total investment of VND1.22 trillion, sourced from the city's budget as approved by Hai Phong People's Committee in October 2020.
The city has invested in the building of two resettlement areas for more than 400 local households affected by the project.
The upgrade project is scheduled for completion by September 2022.
On the same day, the NA Chairman offered incense to Nguyen Duc Canh, one of the founders of the Communist Party of Vietnam and the Vietnam General Confederation of Labour, who was also the first Secretary of the Hai Phong Party Committee.
The lop legislator also visited the Cao Quy wooden stake field on the right bank of Bach Dang River in Thuy Nguyen district, founded in 2019 and believed to be used in the legendary Bach Dang battle in 1288.
TAG: