Vietnam reports 15 new domestic Covid-19 infections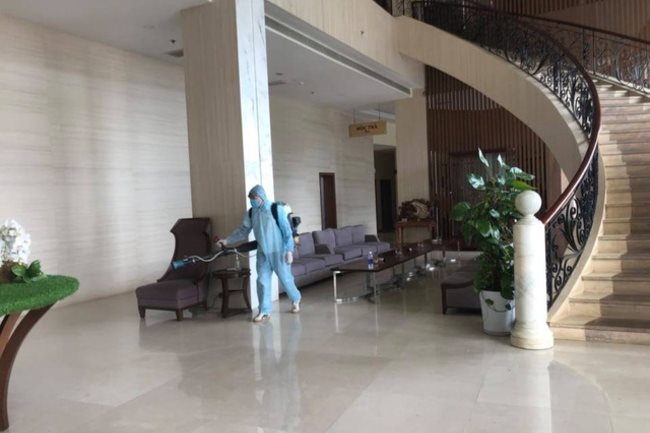 A man disinfects a hotel where a Covid-19 patient has visited. Vietnam's Covid-19 tally has risen to 3,245 after 15 new locally transmitted Covid-19 cases were reported in five localities - PHOTO: MINISTRY OF HEALTH
HCMC - The Ministry of Health has confirmed 15 locally transmitted Covid-19 cases in five localities, taking the country's Covid-19 tally to 3,245 as of this morning, May 9.
Among them, six cases were detected at the National Hospital for Tropical Diseases' Dong Anh campus in Hanoi City, the country's frontline Covid-19 treatment facility. Three of them are patients undergoing treatment at the hospital and three others are caregivers.
The remaining cases include five in Bac Giang Province, two in Lang Son Province, one in Daklak Province and one in Ha Nam Province.
The country has reported 256 domestic infections in the latest outbreak since April 27. Hanoi recorded the biggest number of new domestic infections with 100 cases, including 61 cases at the National Hospital for Tropical Diseases and 11 at K Hospital, followed by Bac Ninh Province with 43 cases, Vinh Phuc Province with 33 cases and Danang City with 18 cases.
The latest Covid-19 outbreak is more complicated than previous outbreaks, requiring stronger efforts and determination of ministries, departments, local governments and the citizens.
As of May 8, Vietnam had vaccinated more than 832,600 people against Covid-19. On May 8 alone, some 30,700 people were vaccinated. The prime minister has asked the Ministry of Health to mobilize all resources to buy more Covid-19 vaccine doses and accelerate vaccination.
Up to now, 2,602 Covid-19 patients in the country have made a full recovery. More than 42,000 people who had close contact with Covid-19 patients or returned to Vietnam from Covid-19-hit countries are being quarantined.
The Ministry of Health suggested that the citizens continue strictly complying with Covid-19 infection prevention and control measures, especially wearing face masks in public places, keeping a safe physical distance from each other, washing hands regularly, avoiding large gatherings and doing health declarations.
TAG: