Quang Ninh, Haiphong report Covid-19 cases linked to K Hospital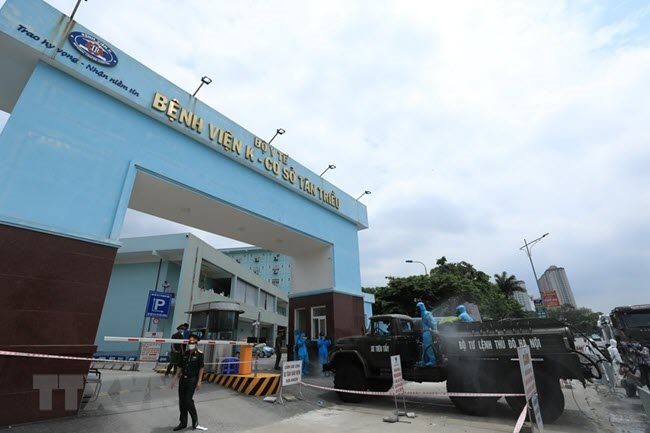 Military forces enter K Hospital's Tan Trieu Campus to disinfect it due to Covid-19. Quang Ninh Province and Haiphong City in northern Vietnam have reported two Covid-19 cases in connection with the coronavirus hotspot at the campus – PHOTO: VNA
HCMC – Quang Ninh Province and Haiphong City in northern Vietnam have reported two Covid-19 cases in connection with Hanoi-based K Hospital's Tan Trieu Campus.
The two cases were detected through Covid-19 screening and testing programs for people returning from Hanoi-based hospitals hit by the coronavirus, reported the local media.
The case in Quang Ninh was taking care of her mother who is under medical treatment at the hospital. The last time she visited the hospital was from April 28 to May 4. After that, she returned home to the province's Ha Long City.
People who came into close contact with her were sent into quarantine and underwent a Covid-19 test. All of their results came out negative once, according to the Quang Ninh Center for Disease Control.
The local health authority is also ramping up contact tracing to find more people linked to the case. It also continued to call on people who had visited three Hanoi-based virus-hit hospitals---the National Hospital for Tropical Diseases, K Hospital's three campuses and the 105 Military Hospital---since April 10 to immediately self-quarantine at home and contact the nearest medical center or the hotline 18009214 for Covid-19 preventive measures.
Besides this, Quang Ninh resumed the operations of Covid-19 checkpoints at the entrances to the province starting today, May 8. Residents travelling through the checkpoints have to show their personal identification cards or equivalent papers.
Water-based passenger transport services linking Quang Ninh with other provinces were also suspended. The provincial education sector was urged to finish the second semester examination of the 2020-2021 school year earlier than scheduled.
In Haiphong City, another Covid-19 infected man was taking care of his wife, who was being treated at the K Hospital, from April 28 from May 4, said the city's anti-epidemic steering committee today, May 8.
The city discovered 47 people who came into close contact with him and notified the relevant parties of his travel history to adopt preventive measures.
Up to now, 10 hospitals in the country have been locked down and quarantined due to new infections. Especially, the two major hospitals---the National Hospital for Tropical Diseases in Dong Anh District and all three campuses of the K Hospital in Hanoi---had to temporarily shut down as tens of cases were reported.
The National Hospital for Tropical Diseases is responsible for treating Covid-19 patients in the northern region since the pandemic hit Vietnam early last year, while the K Hospital is Vietnam's national cancer hospital. The two are now among the country's biggest coronavirus hotspots during the latest Covid-19 resurgence.
TAG: