Vietnam to receive latest Covid-19 vaccine production technologies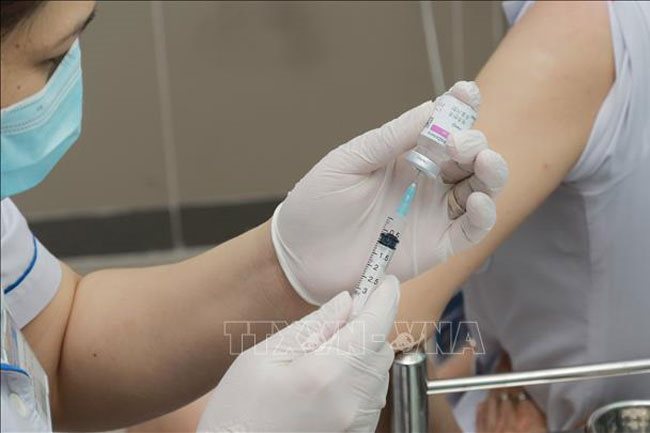 A medical worker prepares to inject her coworker in HCMC with the Covid-19 vaccine. WHO and Japan will transfer Covid-19 vaccine production technologies to Vietnam - PHOTO: VNA
HCMC – The World Health Organization (WHO) and Japan will transfer to Vietnam the latest technologies used across the world for Covid-19 vaccine production, according to the Ministry of Health.
In addition to accelerating the production of local Covid-19 vaccines, the ministry has negotiated with some countries and organizations on Covid-19 vaccine production technologies and has received a response from Japan and the WHO, Thanh Nien Online newspaper reported.
This month, leaders of the ministry will have a meeting with WHO on the transfer. WHO will transfer the technology to a large group in Vietnam, which has yet to produce vaccines but has strong financial capacity and high-skilled human resources in biomedicine.
A delegation of the ministry will visit Japan next month to negotiate on the transfer of Japan's Covid-19 vaccine production technology to an experienced unit under the Ministry of Health.
The technologies transferred by WHO and Japan have been used by the United States' vaccine producers of Pfizer and Moderna.
Vietnam is eligible to receive these Covid-19 vaccine production technologies, according to the Ministry of Health.
The ministry has sought to buy Covid-19 vaccines from other countries via both direct and indirect channels.
Vietnam expects to have 38.9 million doses of AstraZeneca's Covid-19 vaccine provided by COVAX and 30 other doses ordered by the Vietnam Vaccine JSC by early next year. In addition, the Ministry of Health is in negotiations with Pfizer to buy 31 million Covid-19 vaccine doses at the end of this year.
TAG: