Quang Ngai's hamlet of over 200 residents put under lockdown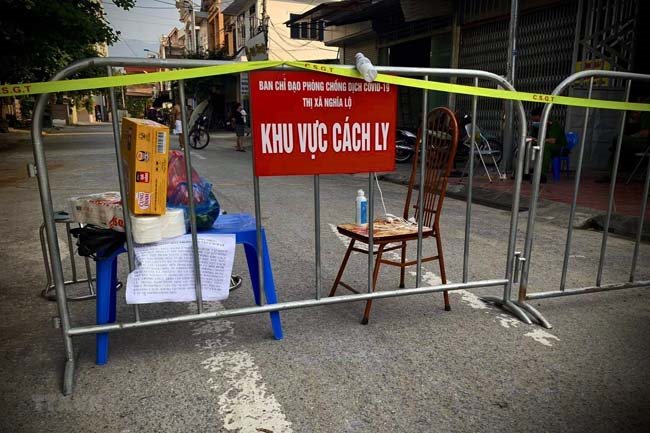 An area is under lockdown due to Covid-19. Thirty local households with 211 residents in An Vinh Hamlet, Tinh Ky Commune, Quang Ngai City of Quang Ngai Province, where a supected case of Covid-19 is residing, was put on lockdown this morning, May 6 – PHOTO: VNA
HCMC – Thirty local households with 211 members in An Vinh Hamlet, Tinh Ky Commune, Quang Ngai City of Quang Ngai Province, where a supected case of Covid-19 is residing, began to be placed under lockdown this morning, May 6.
The residents were asked to comply with Covid-19 safety guidelines and not to leave their places of residence. The authorities sprayed disinfectant in the area. Over 70 people linked to the suspected cases were requested to go to the commune's healthcare center for Covid-19 testing, reported the local media.
Earlier, five other residents who came into close contact with the suspected case had been taken to a quarantine center. Up to now, the authority has yet to decide how long the lockdown will last.
The suspected coronavirus case had visited the Danang-based New Phuong Dong bar, where two Covid-19 cases were previously reported, on the night of April 28. He returned to Quang Ngai the following day and visited a number of locations in Quang Ngai City, Son Tinh and Binh Son districts. He was sent into quarantine on May 4.
The local health authority asked people who had close contact with him during the given period to contact the nearest medical center for Covid-19 preventive measures.
He is considered the first suspected case of Covid-19 in Quang Ngai during the latest Covid-19 resurgence. Earlier, eight State employees of this central province had traveled on the same flight from Can Tho to Danang as a coronavirus patient on April 29. Their Covid-19 test results came out negative on May 5, resulting in nearly 50 people linked to them being spared from further quarantine measures.
In a related development, the northern province of Yen Bai imposed social distancing on Van Chan District's Gia Hoi Commune, which is home to around 6,100 residents, from 5 p.m. on May 5. The move came after the detection of over 10 cases linked to confirmed coronavirus patients in the locality, said Lo Van Tan, chairman of the commune's government.
Residents in the commune were told to stay at home and step out for essential purposes only, Tan said, adding that many working teams had been set up to encourage residents to strictly follow Covid-19 safety measures.
Further, the provincial steering committee for Covid-19 infection prevention and control advised local people not to go to the Gia Hoi Commune area. The commune was also asked to ramp up contact tracing and quarantine efforts.
TAG: