HCMC leader wants restaurant closed for anti-Covid-19 rule violations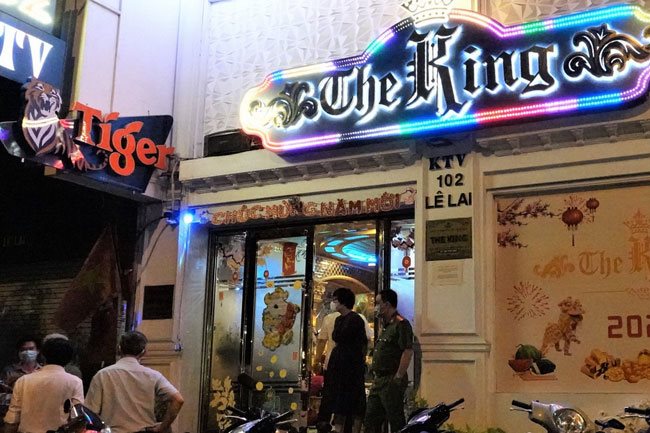 Police inspect the The King restaurant in District 1, HCMC and find it offering karaoke services, which were suspended in HCMC on April 30 to prevent the potential spread of Covid-19. HCMC Chairman Nguyen Thanh Phong has proposed revoking its business registration certificate – PHOTO: TNO
HCMC – HCMC Chairman Nguyen Thanh Phong has proposed revoking the business license of The King restaurant in District 1's Ben Thanh Ward as it violated Covid-19 safety regulations, including offering karaoke services.
Chairing an anti-Covid-19 meeting on May 5, Phong told HCMC Vice Chairman Duong Anh Duc to report the results of the inspection into The King restaurant at 102 Le Lai Street, which was conducted the previous day.
Duc said that after the inspection on the compliance with Covid-19 safety measures, the inspection team found the restaurant offering karaoke services at six VIP rooms.
Among the customers at the six rooms, four were Chinese nationals, one of whom completed his quarantine period in Hung Yen Province on April 21 and is self-quarantining at his residence in Long An Province for 14 days, while four others were identified as Japanese nationals.
The Chinese national traveled to a restaurant and used the karaoke service after undergoing 13 days of the 14-day self-quarantine period at home, posing a high risk of community transmission if he tests positive for Covid-19, Phong said.
Citing a Covid-19 case in Ha Nam Province as an example, HCMC Chairman Phong said that after completing the 14-day period at a quarantine center in Danang City, the patient in Ha Nam returned to his home in the province, but failed to comply with self-quarantine regulations. He tested positive for Covid-19 and caused community transmission.
Nguyen Tan Binh, director of the HCMC Health Department, said on May 4 that the HCMC Center for Disease Control had taken samples from 98 employees and guests at the restaurant. Their test results came back negative for Covid-19, the disease caused by the coronavirus, on May 5.
The HCMC government suspended nonessential services, including bars, pubs and karaoke services, on April 30, the local media reported.
TAG: