Over 1,300 Chinese people illegally enter Vietnam since early 2021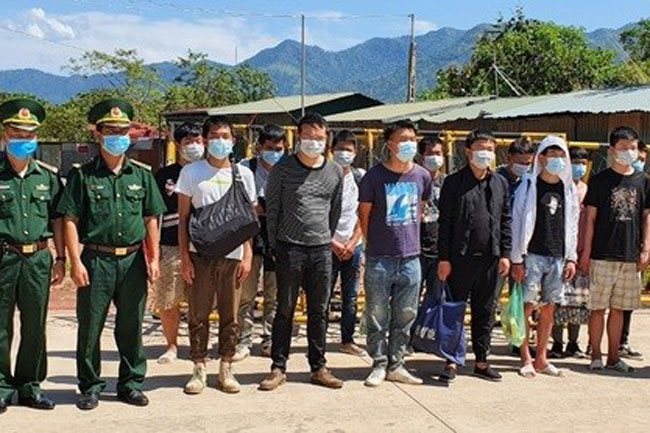 The northern province of Dien Bien hands over 13 Chinese people illegally entering Vietnam to the Chinese side. Over 1,300 Chinese people have illegally entered the country since early 2021 - PHOTO: VNA
HCMC – Since early this year, 39 localities nationwide have reported 199 illegal entry cases, in which more than 1,300 Chinese people have been involved, said Lieutenant General To An Xo, office manager of the Ministry of Public Security.
On the sidelines of a regular Cabinet meeting on May 5, Xo said the Ministry of Public Security had prosecuted 49 cases with 141 people involved, the local media reported.
The border guard forces, the competent agencies from the central to the local levels as well as the entire political system must bear responsibility for preventing illegal entry into the country as this violates the country's sovereignty, posing a high risk of pandemic outbreaks and affecting the livelihoods of Vietnamese laborers.
On May 4, the Minister of Public Security ordered a nationwide campaign to discover illegal immigrants in Vietnam.
Accordingly, motels, hotels and lodging facilities across the country will be examined, while the border guards will increase border patrols and the police will locate the illegal immigrants and file charges against them and brokers of illegal entry rings.
Illegal immigrants who are negative for Covid-19 will be returned to the places they departed from, while lodging facilities violating the relevant regulations will have their licenses revoked and receive administrative fines and even criminal punishment.
TAG: