Vinh Phuc reports eight suspected cases of Covid-19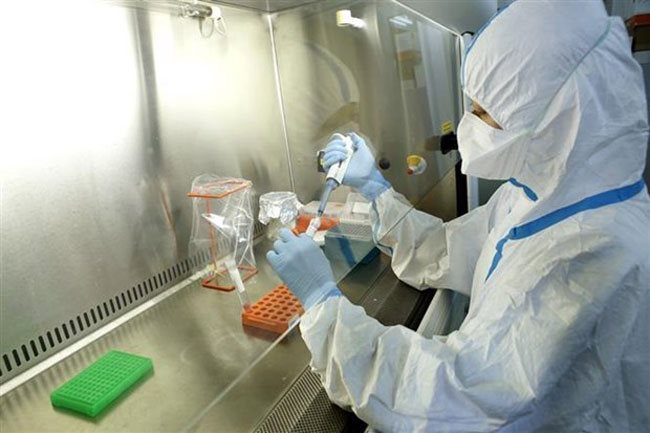 A medical worker performs Covid-19 tests. Vinh Phuc has reported eight suspected cases of Covid-19 – PHOTO: VNA
HCMC – After over 2,840 samples have been taken for Covid-19 testing in Vinh Phuc Province over the past few days, eight are now suspected of being infected with coronavirus.
The Vinh Phuc steering committee for Covid-19 prevention and control told a meeting this morning, May 5, that all of the eight people tested positive for Covid-19 once and were linked to a group of Chinese experts.
After conducting contact tracing, the province found 911 people in direct contact with the suspected cases and more than 4,000 others in indirect contact, the local media reported.
Since May 2, Vinh Phuc Province has reported 14 locally-infected Covid-19 cases, which are linked to the group of Chinese experts who returned to their country.
The results of a genetic analysis of the virus released by the Ministry of Health yesterday, May 4, showed that three samples of three employees of Sunny Club in Vinh Phuc Province tested positive for the Indian variant.
In another development, Hanoi City has reported a suspected case of Covid-19, the disease caused by the coronavirus, while Hai Duong Province found two people suspected of carrying the coronavirus last night.
The suspected case in Hanoi City is a 32-year-old woman who resides in Danang City. She traveled from Danang City to Hanoi City on the same flight as the Chinese experts on April 29.
After arriving in Hanoi City, the woman visited several districts, including Hoan Kiem, Ba Dinh and Thanh Xuan and then traveled to Sapa Town in the northern upland province of Lao Cai. She tested positive for Covid-19 once on May 5, while four people who accompanied her tested negative for the virus.
The two suspected coronavirus cases in Hai Duong Province are a 26-year-old man who traveled from Danang City to Hanoi City on Flight VN160 on April 29 and a 34-year-old man who returned to Hanoi City from Japan on April 29.
TAG: