Condo building in Hanoi locked down after Indian expert tests positive for Covid-19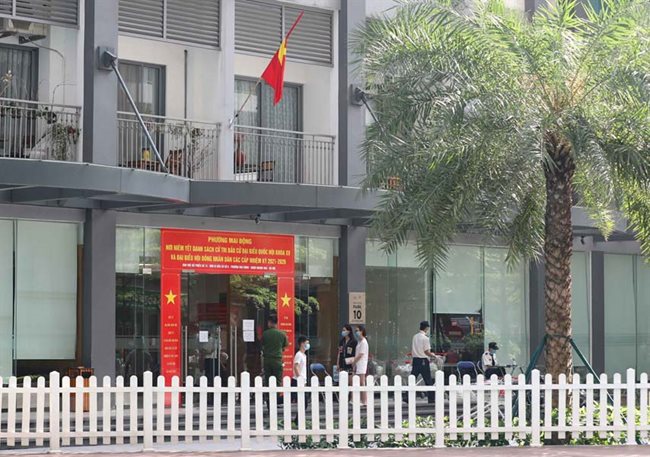 Block Park 10 of the Times City Complex has been placed under temporary lockdown – PHOTO: VNA
HCMC – Block Park 10 of the Times City Complex in Hoang Mai District, Hanoi, has been locked down after an Indian expert living there tested positive for Covid-19 after finishing his quarantine period.
Some 1,500 residents of the building have been asked to stay at home until further notice. The Hanoi Center for Disease Control is taking samples from people living on the same floor as the Indian expert for Covid-19 testing.
The Indian expert works for a Vietnamese car manufacturer and lives in apartment No. 12B on the 24th floor of the building with his wife and two children.
He arrived in Vietnam on April 17 and was immediately put under quarantine at Canh Hung Hotel in Hong Bang District, Haiphong City. After undergoing a 14-day quarantine period at the hotel and testing negative for Covid-19 twice, he was allowed to leave the hotel and took a taxi to his apartment on May 1.
He visited Vinmec Hospital on May 3 for another Covid-19 test and the result showed that he was infected with Covid-19. The patient has been sent to the National Hospital for Tropical Diseases for treatment, while his wife and children are being quarantined at their residence as the children are only one and three years old.
The taxi driver who transported him from Haiphong to Hanoi has also been placed under quarantine.
The Indian expert is the third case that has tested positive for Covid-19 after completing the compulsory 14-day quarantine period in Vietnam since late April. The Ministry of Health has asked all quarantine centers in 63 cities and provinces nationwide to stop discharging people even after they complete their 14-day quarantine period and test negative for Covid-19 twice from today, May 4, until further notice to prevent the potential spread of Covid-19.
TAG: