Vietnam stops discharging people from quarantine centers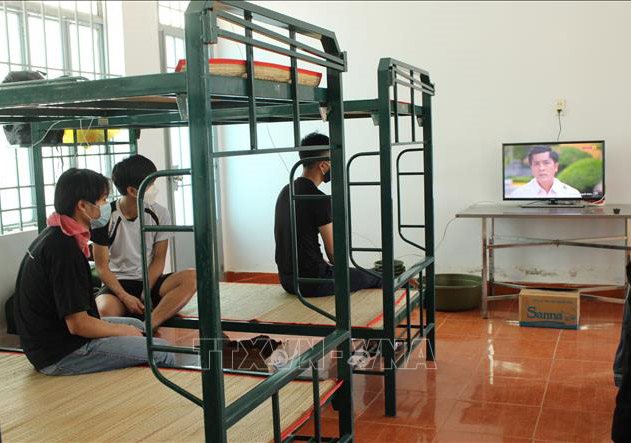 People watch TV inside a quarantine center. The Health Ministry has decided to prolong the quarantine period to prevent the potential spread of Covid-19 – PHOTO: VNA
HCMC – The Ministry of Health has asked all quarantine centers in 63 cities and provinces nationwide to stop discharging people even after they complete their 14-day quarantine period and test negative for Covid-19 twice from today, May 4, until further notice to curb the spread of Covid-19.
According to Dang Quang Tan, head of the General Department of Preventive Medicine under the Ministry of Health, people who left quarantine centers before May 4 will have to comply with the current regulations. They are required to closely inform the local authorities about their health condition and continue to be monitored by them for 14 days after leaving the quarantine centers.
They are allowed to resume work or school. However, they were asked to avoid large gatherings, return to their places of residence and note down their travel schedules and contacts during this 14-day period.
The decision was taken after several people tested positive for Covid-19 again after they completed their compulsory 14-day quarantine period and left the quarantine centers, including the 2,899th patient who was quarantined in Danang City and two Chinese nationals quarantined in Yen Bai Province.
Up to now, 35 new Covid-19 patients related to these three cases have been reported in several cities and provinces.
TAG: