Four fresh Covid-19 cases raise Vietnam's tally to 2,985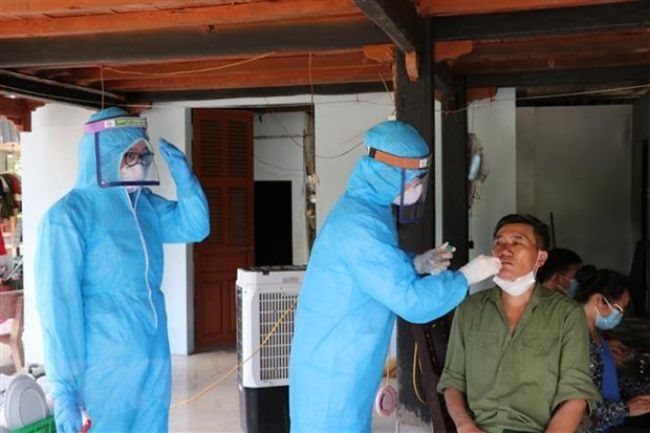 A medical worker takes samples from a resident for Covid-19 testing. The Ministry of Health has reported four new Covid-19 cases, including two locally-infected cases in Danang and Hanoi and two imported ones in An Giang - PHOTO:VNA
HCMC - The Ministry of Health has reported four new Covid-19 cases, including two locally-infected cases in Danang and Hanoi and two imported ones in An Giang Province, taking the country's tally to 2,985 as of this morning, May 4.
The latest locally-infected case in Danang City is a 28-year-old man who resides in Hoi An City in Quang Nam Province and has worked in Danang City's Hai Chau District since April 29. The man developed symptoms of fever and fatigue on May 2. His positive test result came out a day later.
Another locally-transmitted case reported in Hanoi City is a 26-year-old man who lives in Bac Tu Liem District. He was seated near two Chinese experts on Flight VN160 from Danang City to Hanoi City on April 29. He tested positive for Covid-19 on May 3 and is receiving treatment at the national hospital for tropical diseases in the capital city.
Two imported Covid-19 cases included a 65-year-old woman and a 57-year-old man. The residents of An Giang Province were immediately quarantined after returning to the country through the Long Binh international border gate on May 3. Their positive test results came out on the same day.
In related news, the ministry has written to centers for disease prevention and control and preventive healthcare centers in provinces and cities asking them to lengthen the quarantine period to prevent the potential spread of Covid-19.
The directors of the centers were required to temporarily stop allowing those who have completed their 14-day quarantine period and tested negative for Covid-19 twice to leave the quarantine facilities from today until further notice, according to Dang Quang Tan, head of the General Department of Preventive Medicine under the Ministry of Health.
TAG: