Ministry urges localities to halt unnecessary services amidst COVID-19 risk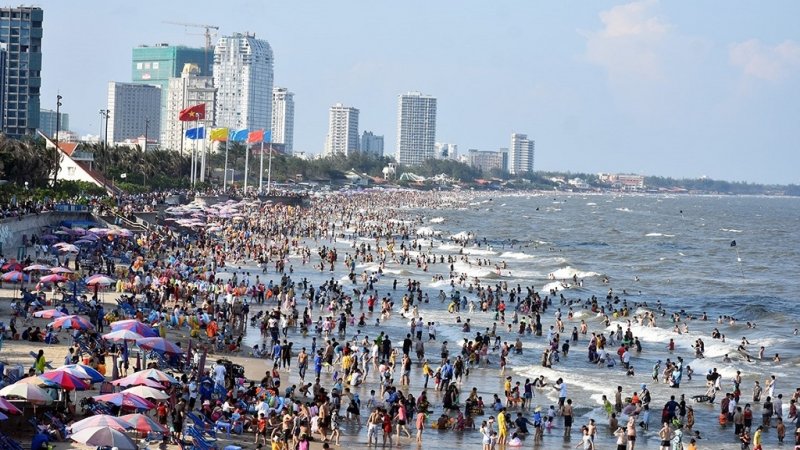 Coastal Vung Tau city welcomes nearly 100,000 tourists on May 1, 2021. (Photo: Ba Ria - Vung Tau Newspaper)   
NDO/VNA – Local authorities should consider ordering the suspension of unnecessary services like bars, karaoke parlours, discos and game rooms to prevent the spread of COVID-19, the Ministry of Health said on May 2.
In a document sent to municipal and provincial People's Committees on the day, the ministry said Vietnam has recorded domestically-transmitted COVID-19 cases in certain localities over the past days, and the coronavirus would further spread.
However, many cities and provinces have still turned lax amid the new infections, the ministry said, citing big gatherings in public places like beaches and tourist sites without serious observance of COVID-19 prevention and control measures.
Given this, the ministry asked localities not to organise unnecessary activities with mass gatherings such as festivals and night markets, and seriously implement preventive measures, especially wearing masks at public places.
Hanoi requires returnees to make health declaration after public holiday
People returning to Hanoi are subject to compulsory medical declaration after the four-day public holidays lasting from April 30 to May 3, according to a document on COVID-19 prevention and control work issued today by the Chairman of the municipal People's Committee.
A large number of people in Hanoi travelled to other localities during the holidays, posing high risks of spreading the viral disease in the community.
Anyone who shows signs of coughing, fever, shortness of breath, or other suspected symptoms of COVID-19 should go to the nearest medical facilities for timely instruction.
Meanwhile, heads of organisations and agencies in the city must be responsible for medical declaration of their staff, and local authorities for that of the residents.
The municipal police are assigned to direct their lower units to make a list of returnees after holidays, popularise COVID-19 prevention measures, and give strict punishment to any violations.
TAG: