"True Italian Taste" 2021 promotes Italian cuisine in Vietnam
The Italian Chamber of Commerce has launched the "True Italian Taste" 2021 with a series of creative events in Hanoi and HCMC to promote Italian cuisine as well as trade and investment between Italy and Vietnam.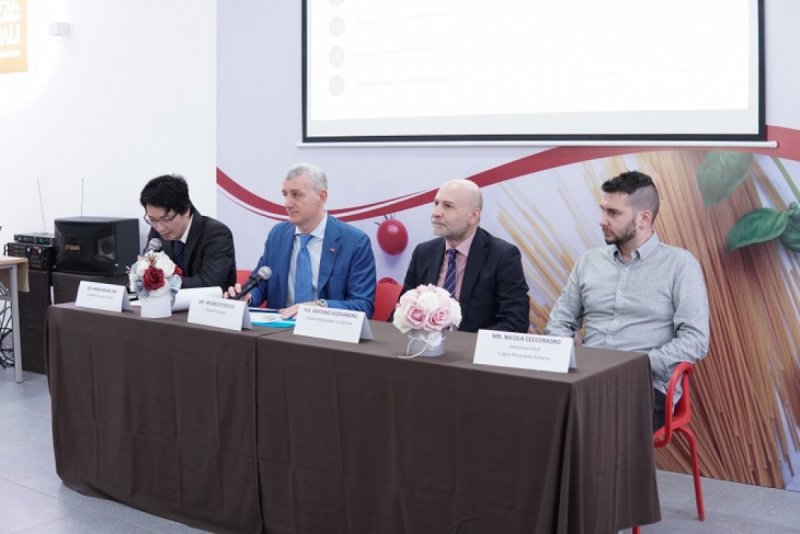 A press conference introduces the "Italian Cuisine – Italian Style" cooking contest in Hanoi.
Over the years, "True Italian Taste" events have been held in Hanoi and Ho Chi Minh City with diverse activities, including workshops and seminars, incoming business and training activities, master classes, and events promoting authentic Italian products to Vietnamese customers.
The events make Vietnamese food importers and distributors, hotels, restaurants and catering businesses (Horeca) and customers distinguish between authentic and Italian-like dishes.
Italy has launched the "True Italian Taste" events in 40 countries and territories since 2016 and in Vietnam since 2019.
"Vietnam is one of the priority countries of our world's market strategy. It's an important market with almost 100 ml consumers, with growing income, and sophisticated taste," Italian Ambassador to Vietnam Antonio Alessandro said at a recent press conference in Hanoi. 
"We believe that Vietnam is an appropriate country to launch this kind of initiative, by doing so we can count on the appreciation of Vietnamese public for Italian F&B. We want to increase bilateral exchanges which were around US$5 billion in 2019. We work together with Vietnamese partners to strengthen strategic partnership and make our business growth in both ways."
Over the last five years, Italy's export turnover to Vietnam has increased 78% reaching US$1.5 billion in 2020. Agro-food export, which accounts for 6.7%, grew 86% in the review period.
Pham Hoang Hai, executive director of the Italian Chamber of Commerce (ICHAM) said the "True Italia Taste" program aims to help Vietnamese businesses and consumers understand more about "Made in Italy" products and have the best choice in selecting "100% Made in Italy ingredients".
In another way, it helps Vietnamese importers and distributors learn about Italian food and beverage criteria, import and export policies, Italian market, taste, and demand for agro-food products.
A representative of An Nam Fine Food Company, which imports Italian food to Vietnam, said, "We have two distribution channels – retailers and HoReCa – covering almost all supermarkets, hotels, restaurants, and caterings in Vietnam. An Nam company has considered many things when we choose any brand of products, including the quality of products and reputation of the brand to customers to ensure the success of the product."
Ambassador Antonio Alessandro said that Italy is famous for 3F letters - food, fashion, and furniture and one of the world's 10 largest food exporters. However, Italy's food exports to Vietnam remain modest, about EUR70 million.
"The business environment in Vietnam has changed considerably over the last 20-30 years since Doi Moi (Renewal)," said Ambassador Antonio Alessandro. "The country has liberalized the business sector and Italian companies operating in Vietnam are generally very happy about the business environment in the country. Of course there are areas where you can do better we can do better as foreign partners. And the EVFTA provides the mechanisms for a bilateral consultations and and provides instruments to make these business environment even better."
This year, ICHAM has launched the "True Italian Taste" in a form of a cooking contest entitled "Italian Cuisine – Italian Style" in Hanoi with a new sensational, much more intriguing experience.
The contest's Finale will be a live cooking show called "Authentic Italian Table", joined by chefs, food bloggers, journalists and businessmen on May 22. A similar event is scheduled in Ho Chi Minh City in September.
VOV
TAG: