Vietnam reports cases of Indian Covid-19 variant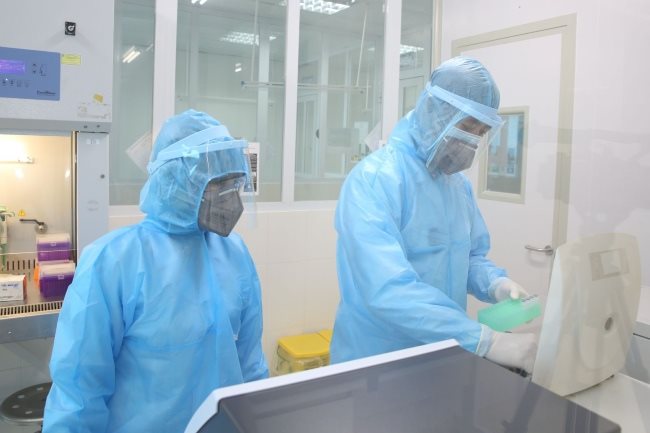 Two medical workers perform Covid-19 tests. Vietnam has reported five cases of the B.1.617 variant of Covid-19, which was first detected in India - PHOTO: MINISTRY OF HEALTH
HCMC - Four Indian experts who arrived in Vietnam and a Vietnamese man who works at a hotel where the experts are being quarantined have been infected with the B.1.617 variant of Covid-19, which was first found in India.
This was announced by the Ministry of Health on April 30 following genetic sequencing of the patients' samples by the National Institute of Hygiene and Epidemiology.
The B.1.617 variant of Covid-19 from India, also known as the double mutation strain, is more transmissible than other variants and can reduce the effectiveness of Covid-19 vaccines.
However, the fact that both mutations occur together does not necessarily mean that this variant is also twice as infectious or dangerous. The Indian variant has been detected in at least 17 countries.
The four Indians were among a group of 11 Indian experts who entered Vietnam on April 18. The Vietnamese man was a receptionist at Nhu Nguyet 2 Hotel in the northern province of Yen Bai, where the experts were quarantined upon arriving in Vietnam.
Seven other experts in the group and a medical worker who was in close contact with them are also being quarantined at the hotel.
The B.1.617 variant was first identified in India last December and this is the first time that it has been detected in Vietnam. The country had earlier recorded other Covid-19 variants from the United Kingdom and South Africa.
TAG: