HCMC asked to strictly punish unmasked people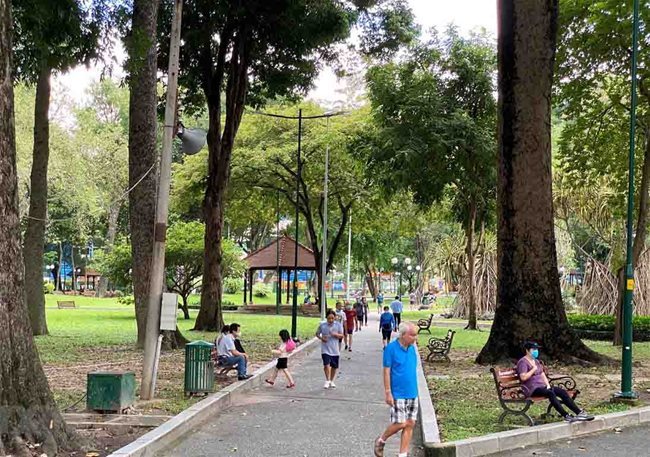 Some people wear masks while others are seen without them in Tao Dan Park in downtown HCMC. The city has been asked to strictly punish citizens who venture out in public without putting on a mask – PHOTO: VNA
HCMC – Deputy Prime Minister Vu Duc Dam, head of the national steering committee for Covid-19 infection prevention and control, has asked the HCMC authorities to strictly sanction people that do not wear face masks in public places amidst the complicated Covid-19 development in some other countries in the region.
Speaking at a meeting with the HCMC steering committee for Covid-19 infection prevention and control this morning, April 23, Dam said the number of new Covid-19 cases in Asia has soared 34% over the past week. Some countries in the region such as Cambodia, Thailand and Laos have recently seen a surge in the number of new Covid-19 cases.
Illegal immigration from these countries is posing a high risk of Covid-19 outbreaks in Vietnam, especially in major cities such as HCMC and the border provinces.
According to Dam, the number of illegally immigrating people that were detected by the authorities is much smaller than the actual number because many people illegally entered the country through small trails without being detected.
"If these people attend crowded events or visit crowded places such as bus stations or airports, it will be very dangerous," he said.
Regarding the previous outbreaks in Danang City and Hai Duong Province, Dam said the main reason was carelessness in implementing preventive measures, including wearing masks.
Therefore, HCMC and the southwestern provinces sharing borders with Cambodia must tighten control over illegal immigration and strictly implement preventive measures.
"People who illegally enter the country or fail to complete health declarations must also be strictly punished," Dam said.
HCMC Chairman Nguyen Thanh Phong said since early this year, the city has detected 108 people who illegally immigrated.
Up to now, the city has reported 246 Covid-19 cases, according to director of the HCMC Health Department Nguyen Tan Binh. As many as 222 of them have made a full recovery. More than 2,570 people who had close contact with Covid-19 patients or returned from Covid-19-hit countries are being quarantined in the city.
From March 8 to April 18, the city vaccinated 9,155 health workers of 73 public medical centers and hospitals against Covid-19 in the first phase of the vaccination campaign. In the second phase, which started on April 19, the city vaccinated 1,022 health workers of 10 medical centers and hospitals.
"HCMC proposes imposing stricter punishments on illegally immigrating people. Besides, they would have to pay the quarantine fees of the people they come into contact with," Binh said.
TAG: