President attends opening ceremony of Leaders Summit on Climate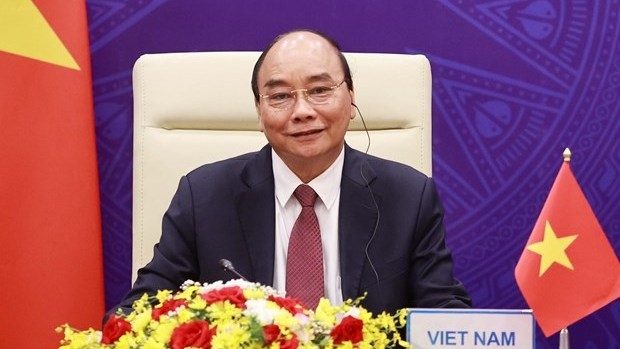 President Nguyen Xuan Phuc at the opening ceremony of the virtual Leaders Summit on Climate on April 22 (Photo: VNA)   
NDO/VNA – President Nguyen Xuan Phuc participated in the opening ceremony of the virtual Leaders Summit on Climate hosted by the US on April 22 at the invitation of US President Joe Biden.
President Phuc was among 40 world leaders invited to join the summit, which runs on April 22-23 and is live streamed for public viewing.
The event aims to galvanize efforts that keep a goal of limiting planetary warming to 1.5 degrees within reach in line with the 2015 Paris Agreement on climate change. It also highlight examples of how enhanced climate ambition will create good paying jobs, advance innovative technologies, and help vulnerable countries adapt to climate impacts.
As part of the summit, the Vietnamese leader will attend and deliver a speech at a session on the economic opportunities of climate action scheduled for April 23, together with Biden, the Spanish Prime Minister, and the Presidents of Nigeria and Poland.
TAG: