Fuel tycoon stands trial over substandard fuel production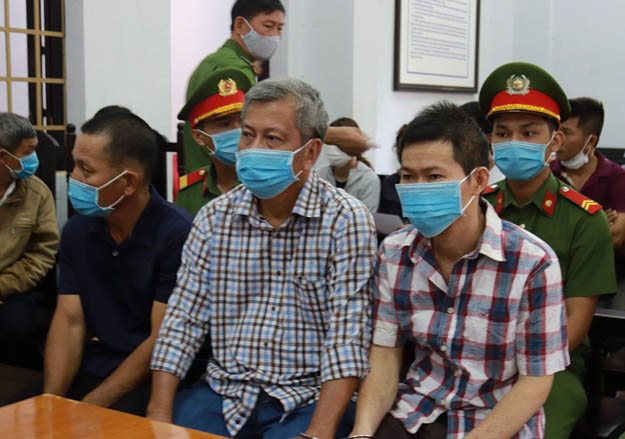 Trinh Suong (C) and his accomplices at the court – PHOTO: CAND.COM.VN
HCMC – The People's Court of Dak Nong Province will spend over 20 days in the trial against fuel trader Trinh Suong, chairman and director of My Hung Co., Ltd, and his accomplices for allegedly producing and trading substandard fuel products.
The trial opened on April 8 and is scheduled to wrap up on April 28 or 29, involving 39 defendants, five organizations and five related persons. It is being attended by more than 20 lawyers.
Suong, 54, was head of the substandard fuel production ring, which produced over 137 million liters of substandard fuel worth nearly VND2.5 trillion, allegedly earning an unlawful profit of over VND100 billion.
His accomplices included many owners of fuel and chemical trading facilities in HCMC, Can Tho and Dak Nong such as Dinh Chi Dung, director of Dinh Chi Dung Company in HCMC's District 9; Nguyen Ngoc Quan, director of Tam Quang chemical company in HCMC's Binh Chanh District, and Nguyen Thi Thu Hoa, managing director of Pham Son Company.
Suong founded My Hung Company in 1996 to trade in fuel. He launched the Gia Thanh Company 11 years later, but allowed his sister-in-law named Truong Nhu Tuyet Tram to serve as its director. Suong also holds a 75% stake in the Ressol Petrochemical Trade JSC.
Suong learned how to produce substandard fuels in late 2016 by blending chemicals and solvents with real gasoline.
Until April 2019, Suong hired more facilities at the poor-quality fuel production at the Ressol Fuel Warehouse under the Ressol Petrochemical Trade JSC in the Mekong Delta city of Can Tho.
To avoid being uncovered by the police, Suong indirectly purchased materials through scores of individuals and parties to produce fuels.
During the police raids held between May 28 and June 2, 2019, these entities were caught mixing solvents with coloring powder to produce fuels at six locations in HCMC, Can Tho and Hau Giang and Soc Trang provinces.
Authorities discovered that over 137 million liters of substandard fuel worth VND2.492 trillion was produced at two fuel warehouses run by Suong in Soc Trang and Can Tho between 2017 and 2019.
TAG: