Vietnam completes second phase of human trials of Covid-19 vaccine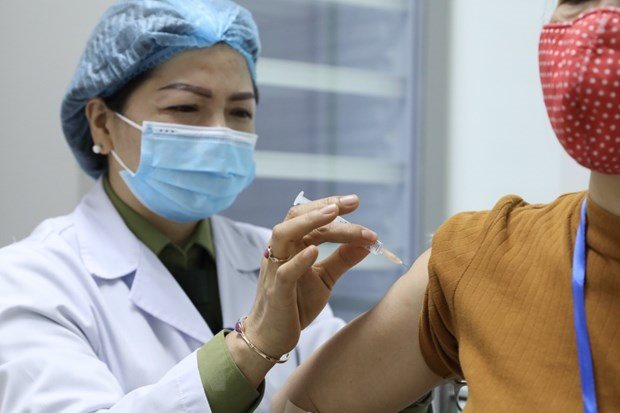 A volunteer is given a shot of the Nano Covax vaccine. The second phase of the human trial of Vietnam's first Covid-19 vaccine, Nano Covax, produced by Nanogen Pharmaceutical Biotechnology JSC, wrapped up today, April 7 – PHOTO: VNA
HCMC – The second phase of the human trial of Vietnam's first Covid-19 vaccine, Nano Covax, produced by Nanogen Pharmaceutical Biotechnology JSC, wrapped up today, April 7, with the last three volunteers receiving the second injection in the day, according to the Vietnam Military Medical Academy in Hanoi City.
In the second phase, the Academy reported 280 volunteers eligible to get the first shot of the vaccine. However, due to unexpected issues, two volunteers declined the second shot, reported Lao Dong newspaper.
Up to now, none of the people that have been injected with the Nano Covax vaccine suffered severe reactions to the vaccine, but only developed normal symptoms such as mild fever, pain where the injection was given, or fatigue.
After completing the second phase of the trial, the Academy's research team will evaluate the immune response of the vaccine on the volunteers.
Further, the preliminary results of the second trial will be reported in May. The research team will then submit the results to the national committee on bioethics for consideration and evaluation, as well as map out and select the most effective dosage to carry out the third phase of the clinical trial.
Earlier, volunteers were given the first shot of the Nano Covax vaccine in the second phase on February 26 at the Vietnam Military Medical Academy and the Ben Luc District Medical Center in southern Long An Province. The second phase was attended by 560 volunteers at the two locations.
TAG: