In Hanoi, zero-cost toys connect family members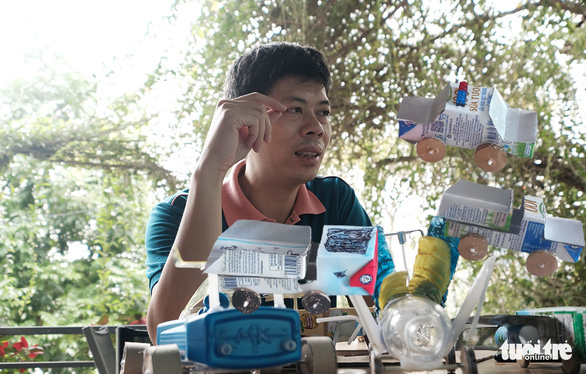 Used milk cartons, glass bottles, and plastic cans turn into toy cars, aircraft, and animals. Imagination has no boundary when the whole family can spend time bonding and creating together.
That is how Bui Van Huy, an architect in Hanoi's outlying district of Bac Tu Liem, has chosen to raise his children and inspired many other parents to follow suit.
Zero-Vietnamese dong toys
All toys made by Huy had their previous lives as discharged materials.
Now they are cars, airplanes, trucks, doll houses, swings, robots, and animals loved by his children.
"I have made toys since my first child was born," said Huy.
"Creating objects that nurture children's emotions and creativity is my own way of spending more time with them.
"The enjoyment in their eyes makes me realize that children do not choose toys based on prices but by how much they are attracted to the objects."
There are toys considered as normal and bland by adults while for children, they can trigger curiosity and even new discoveries, according to Huy.
He said by making toys with children, parents could help them build abstract thinking, logical reasoning as well as develop patience and craftsmanship.
For the father, besides shaping, it is important to utilize materials and make use of excess to minimize waste. 
"I call them zero-Vietnamese dong toys because except for glue, I do not need to buy anything," he explained.
"I simply dedicate my labor and time, and pour my heart into the activity."
There is a warehouse in Huy's home where waste is cleaned and sorted into groups, ready to transform into a variety of toys.
Sometimes, materials give Huy hints on what he will make next.
It even takes him several days to look for the right component for his new creation, a curvy, transparent bottle to cover the cockpit of a toy car, a notch can to make a giant grasshopper's head or a shampoo bottle that resembles a sports car, for example.
Proactively playing
Even though they do not have any sounds or colorful decorations, Huy's zero-dong toys can spin, move, and even walk.
Huy admitted that he is not an expert in child education or psychology.
He gets ideas only by observing and playing with his children to bring 'sustainable joy' via recycled toys.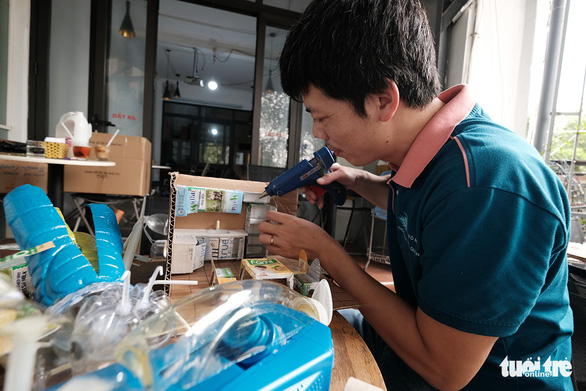 Bui Van Huy assembles a toy from discards. Photo: Mai Thuong/Tuoi Tre
Children can get bored easily with an automatic car which generates noisy music and vibrant light, according to Huy.
Regarding handmade toys, they offer interactive experiences.
For anytime they play, there will be new discoveries and feelings. This will make children emotionally attached to their simple toys.
"I always want to improve children's engagement in playing," he said.
"For example, when making an airplane from a big water bottle, I cut open some doors for them to put small animals and dolls inside the cockpit while imagining a trip.
"Joy is not only created when a child receives a new toy but when they also join in crafting, taking care of, and fixing toys."
Above all, Huy hopes to spread the message of environmental protection through any toy he makes to his children and community.
Family bonding
According to Huy, toys reflect culture, bond family members, and retain affection.
To share his passion for making toys, Huy established a YouTube channel named 'kheoleodoitay' (Skillful Hands), on which he posts tutorials of crafting objects step-by-step.
Many parents have reached out to him showing their creations after watching those videos.
A group of overseas Vietnamese people called Huy, showing their interest and asking whether he wanted to sell his toys.
"I have never thought of the idea," he admitted.
"I am occupied by other jobs and have no time to think of making profits from handmade toys.
"All I want is to initiate something meaningful to children, firstly from the love for my own ones."
TAG: