CAAV proposes accepting Covid-19 vaccine passports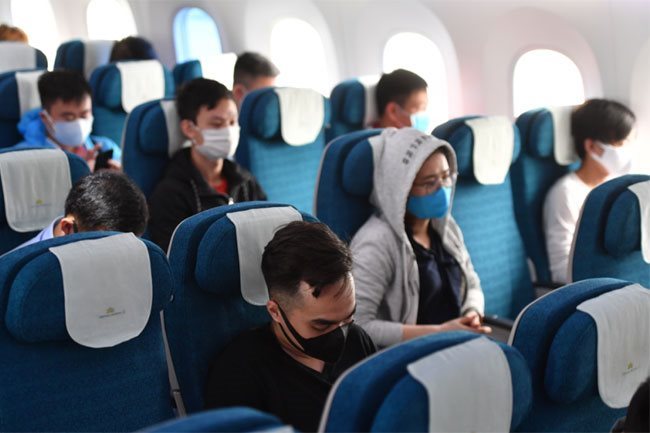 Passengers on a flight. CAAV has proposed allowing passengers who hold a Covid-19 vaccine passport and possess a medical certificate with a negative Covid-19 test result to enter Vietnam – PHOTO: VNA
HCMC – The Civil Aviation Authority of Vietnam (CAAV) has proposed allowing passengers who hold a Covid-19 vaccine passport and possess a medical certificate with a negative Covid-19 test result to enter Vietnam.
A representative of the authority said today, April 6, that it had proposed the Ministry of Transport report the plan to roll out Covid-19 vaccine passports to the Government to reopen international air routes.
The aviation industry is facing multiple difficulties due to the coronavirus pandemic, so the reopening of international air routes is necessary, the representative said, adding that allowing passengers to use Covid-19 vaccine passports to enter the country is an effective solution.
A vaccine passport or a green pass is a document or app that stores personal information, identity cards, or passports and medical data such as a Covid-19 test result, proof of vaccination and a health certificate.
Using digital vaccine passports will restrict the falsification of certificates, help competent agencies easily scan the passports via QR codes and ensure information security for passengers, according to CAAV.
Many countries have rolled out Covid-19 vaccine passports. For example, China has issued paper vaccine passports and electronic ones that can be scanned via QR codes, while Hungary has given vaccine passports to those who have made a full recovery and got two shots of the Covid vaccine.
Israel has adopted the policy of a vaccine green pass since February 21. Israelis can download an app called the green pass after vaccination to gain access to venues and events, the local media reported.
Earlier, former Prime Minister Nguyen Xuan Phuc had asked the competent agencies to consider and study the resumption of international flights and to prepare well to launch Covid-19 vaccine passports.
TAG: