From Tho Nguyen to Ryan Kazy: high profits are made from YouTube content for children
Developing content on YouTube has proven to be very profitable for young creators, from a 29-year-old Vietnamese girl to a 9-year-old boy from Texas.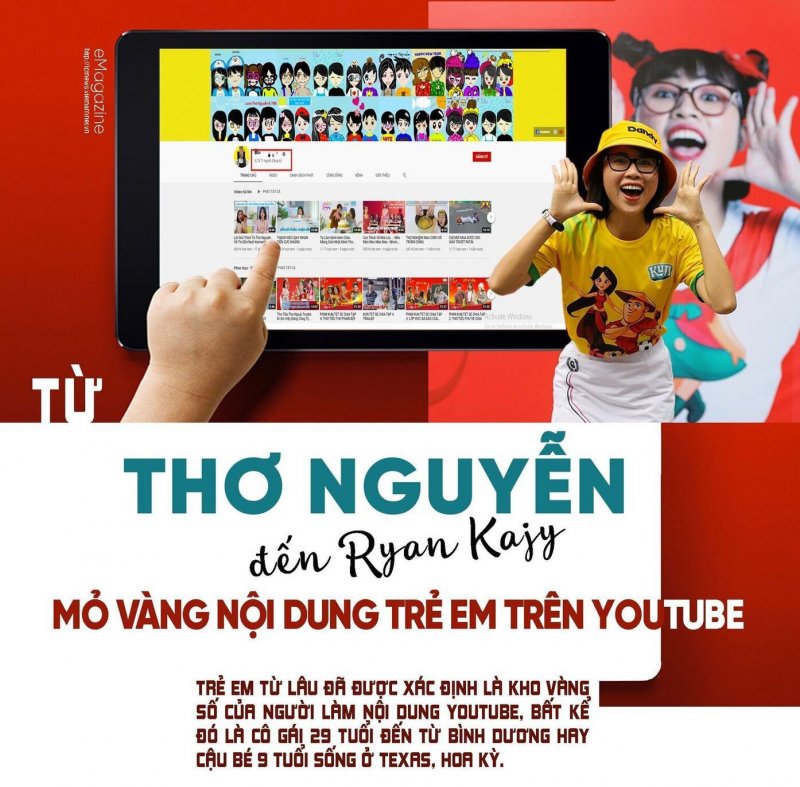 Ryan Kaji was once again found in the list of YouTube's highest income earners in 2020 released by Forbes, with an estimated income of $29.5 million.
The boy, whose father is Japanese and mother is Vietnamese, is the owner of Ryan's World channel with 29 million subscribers and 46 billion views since 2015.
Vietnam also has a rich YouTuber. Nguyen Thi Hong Tho, the owner of Tho Nguyen channel established in 2016, had 8.74 million subs and 8.2 billion views by the time she was called by the Binh Duong provincial Department of Information and Communications because of "anti-education" clip.
The common characteristic of both YouTubers is that they produce content for children and are famous in countries where they live.
In Vietnam, the boycotting of Tho Nguyen has increased, while Ryan's family is also facing criticism because both earn money taking advantage of children's innocence.
Who is Tho Nguyen?
Her real name is Nguyen Hong Tho. She was born in 1992, and lives and works in Binh Duong. She graduated from the HCM City University of Law and was in the fashion business before becoming a YouTuber.
In 2016, Tho and her boyfriend, Tieu Bao Bao (not his real name) established a YouTube channel called Tho Nguyen with content targeting children.
In 2017, Tho Nguyen became famous after posting a clip showing her groaning in a giant jelly bathtub. The channel began attracting children thanks to its diverse content like cooking, toy box opening and challenges not suited to children.
Later, Tho Nguyen had to block comments or hide video clips which faced fierce criticism, such as videos on trying to boil a soft drink can or putting dry ice into a closed bottle.
As videos about challenges are now in fashion, Tho Nguyen published a lot of clips of this kind, saying they were 'nonsensical' (for example, staying for 24 hours in a dumping ground; guessing objects by smelling while blindfolded – she 'tasted' boyfriend's feet with her tongue).

Developing content on YouTube has proven to be very profitable for young creators, from a 29-year-old Vietnamese girl to a 9-year-old boy from Texas.
In a clip posted on February 27, Tho Nguyen said that she made a video using a doll to "ask for good study", which reminded people of Kumanthong doll.
Tho Nguyen team then posted the clip on Facebook and faced criticism from parents. She then apologized to the audience after the clip became a hot topic on local newspapers and management agencies criticized her.
The Department of Radio, Television and Electronic Information under the Ministry of Information and Communications (MIC) asked the Binh Duong Department of Information and Communications to work with Tho Nguyen on the issue, stating that if Tho Nguyen was still uncooperative with management agencies.
After the working session with the agency, she was fined VND7.5 million for the act of providing and sharing information and promoting superstitious beliefs.
Meanwhile, Thuan An City's taxation agency reported that Tho Nguyen has paid personal income tax of VND2 billion on revenue of VND28.5 billion from content for children on YouTube.
Tho Nguyen, under public pressure, has hidden all videos, turned off monetization on YouTube, and has stated she will stop making videos. She also did the same on her Tik Tok channel.
Tip of the iceberg
The years before 2020 witnessed the boom of YouTube channels for children. One of them was Spiderman Elsa which provided clips with vulgar content for children. The channel didn't have content in Vietnamese, but surprisingly was owned by a Vietnamese and belonged to Vietnam multi-channel network.
Because of criticism, YouTube has set up stricter requirements to tighten control over channels for children.
However, analysts believe that Tho Nguyen and Ryan are just two 'grains of sand' out of the 50 million content producers on YouTube. And if some YouTubers have to stop making videos, other YouTubers will appear to provide content to more than 2 billion users.
"Parents need to look after their children regularly and remind them of what they can watch and what they must not, because there are many 'toxic' channels on YouTube," said Ngoc Linh, a mother with two children in Hanoi. 
Phuong Nguyen
TAG: