Nine charged with allegedly beating up, burying alive young man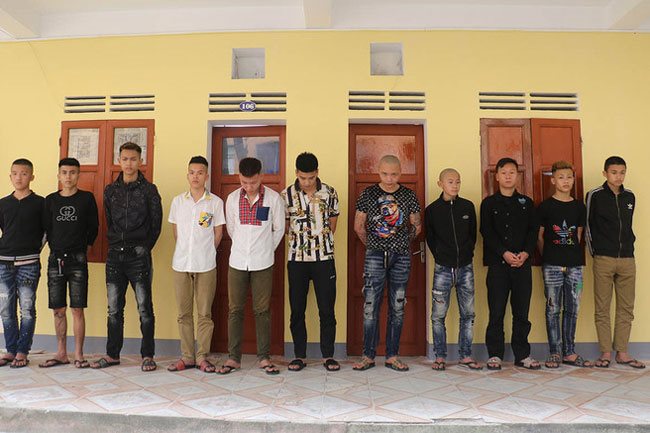 11 people who were allegedly involved in the case - PHOTO: VINH CITY POLICE
HCMC – The police of Nghe An Province's Vinh City have filed charges against nine people for allegedly capturing, beating up and burying alive a 17-year-old boy.
The nine, aged from 17 to 31, comprise Nguyen Trong Duong, Ho Trong Khanh, Le Nguyen Hung, Nguyen Tien Nam, Tran Manh Tai, Vo Quang Hung, Hoang Quang Thanh, Phung Duy Ngoc Anh and Nguyen Dinh Huy, the local media reported.
Five other younger boys were also found to be involved in the case and the police are investigating their violations.
According to initial results of the police investigation, N.Q.V., a resident in Xuan An Town, Nghi Xuan Town, Ha Tinh Province, hired Duong's motorbike but did not return it. Therefore, Duong asked his henchmen to look for V.
On March 24, they found V. in Vinh City, so they captured and beat him and took off his clothes. The group later took V. to a nearby wasteland in Nghi Xuan District and continued beating him.
They dug a pit, covered V.'s head with a bag, tied his hands, pushed him into the pit and covered him with soil despite his pleading. A short period later, V. was pulled out of the pit and taken to a nearby river to bathe.
A video on the case, which was posted on social networks on March 26, has sparked public outrage.
Just three hours after the video was posted on social media, police detained 13 people and summoned the victim. The police later arrested Duong when he was hiding in Hanoi.
TAG: