Vietnam to receive some 4.1 million doses of Covid-19 vaccine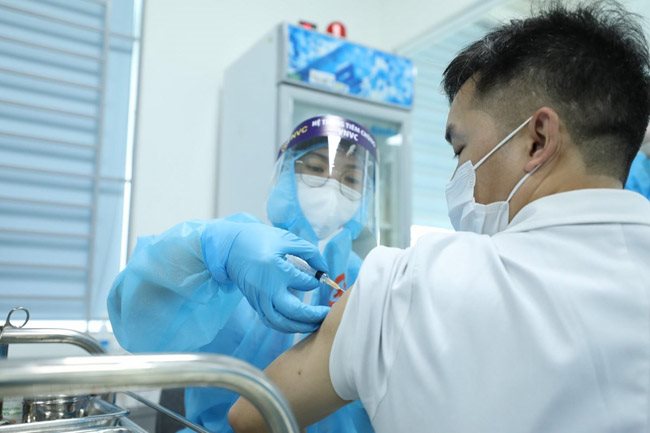 A medical worker at the National Hospital for Tropical Diseases gets a shot of Covid-19 vaccine. Vietnam will continue to receive some 4.1 million doses of the vaccine in May – PHOTO: VNA
HCMC – After receiving 928,900 doses of the Covid-19 vaccine in February and early April, Vietnam will continue to receive some 4.1 million doses in May as part of its efforts to build community immunity this year.
To reach the goal, the country needs up to 150 million doses of the vaccine for its people, according to the Ministry of Health.
However, the global shortage of the vaccine has slowed down Vietnam's vaccine purchase and imports. Accordingly, the ministry is working hard to receive Covid-19 vaccine supplies and seeking help from countries and organizations to bring home more doses of the vaccine.
Late last month, Minister of Health Nguyen Thanh Long had worked with the ambassadors of the European Union (EU), the United States and Japan in Vietnam and representatives of some international organizations such as the World Health Organization, the United Nations Children's Fund and the United Nations Population Fund on vaccine supplies.
The minister requested the EU side to support Vietnam with policies approaching Europe's Covid-19 vaccine supplies not only via the COVAX program but also via direct supply sources and other programs.
Speaking to U.S. Ambassador to Vietnam Daniel J. Kritenbrink, the head of the national health authority suggested the United States create favorable conditions for Vietnam to access drugmakers such as Moderna, Pfizer and Johnson & Johnson. The two parties also reached consensus about forming a temporary working team to approach and provide support linked to the vaccine.
Earlier, the ministry's Drug Administration of Vietnam called on local drugmakers to speed up the work to develop Covid-19 vaccines as well as contact Pfizer and other drugmakers such as Johnson & Johnson, Moderna and Sinovac to diversify vaccine supply sources.
TAG: