Vietnam seeks Covid-19 vaccines from Europe, U.S., Japan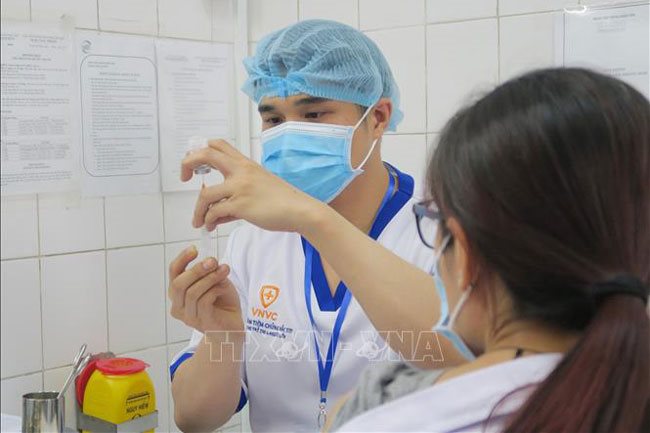 A medical worker in HCMC is injected with the AstraZeneca Covid-19 vaccine. Vietnam is seeking Covid-19 vaccines from the European Union, the United States and Japan - PHOTO: VNA
HCMC – Minister of Health Nguyen Thanh Long, at a meeting with diplomatic officials from the European Union, the United States and Japan on April 1, asked the EU, the U.S. and Japan to support Vietnam in accessing Covid-19 vaccines, not only through the Covax Facility but also via direct sources and other programs.
The United States has approved Covid-19 vaccines produced by Moderna, Pfizer and Johnson & Johnson and injected over 220 million doses of the vaccines. Speaking with U.S. ambassador to Vietnam Daniel J. Kritenbrink, Minister Long proposed the United States create conditions for Vietnam to access these vaccines. The two sides will establish a working group to take charge of the job.
Japanese companies are also developing Covid-19 vaccines with abundant supplies. Minister Long suggested Japan share the vaccines and transfer know-how to Vietnam so that it can produce and pilot the vaccines.
In response, Japanese ambassador to Vietnam Yamada Takio said the two countries have supported each other in the fight against Covid-19. During a phone conversation between Vietnamese Party General Secretary and State President Nguyen Phu Trong and Japanese Prime Minister Suga Yoshihide on March 22, Japan pledged to provide Vietnam with 220 million yen (US$2 million).
Vietnam is also eyeing Covid-19 vaccines produced by members of the EU. According to ambassador of the EU to Vietnam Giorgio Aliberti, the Union has contributed more than US$2.5 billion to Covax, and Vietnam on April 1 received over 800,000 doses of the AstraZeneca Covid-19 vaccine through Covax.
The minister proposed the EU support Vietnam to gain access to Covid-19 vaccine supplies.
This year, Vietnam needs 150 million Covid-19 vaccine doses. The country has concurrently sought vaccine supplies abroad and boosted domestic vaccine production.
TAG: