Party General Secretary and President extends congratulations on 70th anniversary of Military Central Hospital 108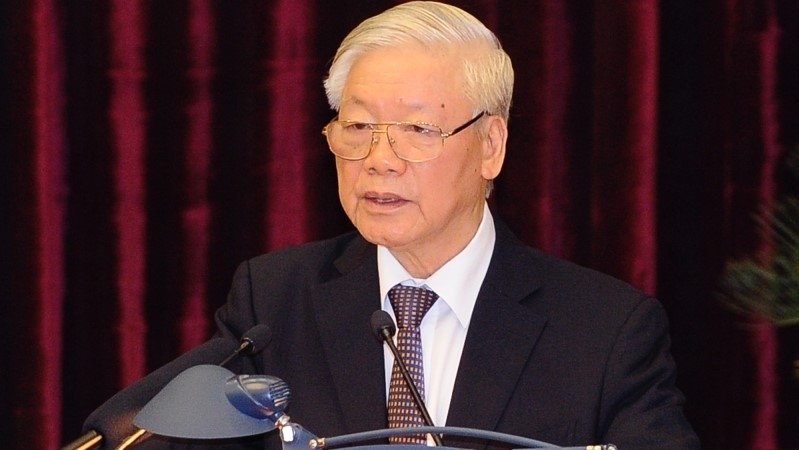 Party General Secretary and President Nguyen Phu Trong (Photo: NDO)   
NDO - Party General Secretary and President Nguyen Phu Trong has issued a congratulatory letter to mark the occasion of the 70th anniversary of the Military Central Hospital 108 (April 1, 1951-2021). The full text of the letter is as follows:
"Dear comrades,
On the occasion of the 70th anniversary of the Military Central Hospital 108 (April 1, 1951-2021), I cordially send my dearest regards, greetings and best wishes to the Board of Directors, professors, doctors and the whole officers, soldiers, professional soldiers, defence workers, civil servants and employees as well as the families and relatives of fallen, wounded and sick soldiers who have been working at the Military Central Hospital 108.
Over the past 70 years of formation and development, under the leadership and direction of the Party and State, directly the Central Military Commission and Ministry of Defence as well as the enthusiastic care and support from the Party committees and authorities at all levels and people, and the close coordination of the agencies and units inside and outside the Army, Military Central Hospital 108 has upheld the good nature and glorious tradition of the heroic Vietnam People's Army. The hospital has been always united, proactive, creative, self-reliant and resilient as well as made great efforts and overcame all difficulties to successfully fulfilled its assigned tasks. The hospital has actively studied, trained and applied modern scientific and technological achievements to improve the quality of medical examination, treatment and care for leaders and former leaders of the Party, State and the Army; fallen and wounded soldiers; officials, soldiers and people.
The Military Central Hospital 108's exceptional achievements have significantly contributed to the cause of national liberation, construction and defence, being appreciated by the Party, State and the Army. It has been awarded many noble orders, medals, and titles.
On the occasion, I warmly hailed, praised and congratulated the exceptional achievements of the Military Central Hospital 108 over the period, while hoping the comrades will continue to uphold the hospital's glorious tradition and the heroic Vietnam People's Army to study and practice political and moral qualities, and to be absolutely loyal to the Party's revolutionary cause; constantly improve professional qualifications and boost scientific research, training and creative innovation; promote the study and following of Ho Chi Minh's ideology, morality and style; strengthen the victory emulation movement and the campaign to promote tradition and dedication of talents, worthy of the title of 'Uncle Ho's soldiers'. The hospital will continue to build its pure and strong Party committee associated with the construction of an exemplary, outstanding and strong hospital, to successfully fulfil all assigned tasks, worthy of being the leading medical centre of the Army and the country and on par with the region and the world.
With affection and trust, I wish the comrades and your families good health, happiness and success.
Cordially,
NGUYEN PHU TRONG
General Secretary of the Communist Party of Vietnam
State President of the Socialist Republic of Vietnam
Secretary of the Central Military Commission"
TAG: