Dinh La Thang faces 12-13 years in prison, Trinh Xuan Thanh 21-23 years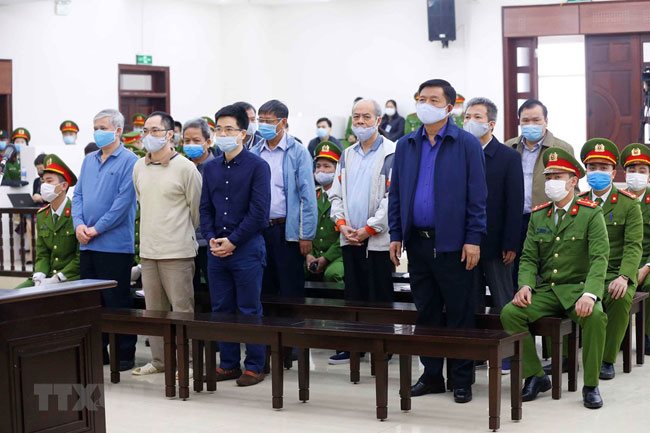 Defendants at the court. Dinh La Thang faces a jail term of 12-13 years, and Trinh Xuan Thanh, 21-23 years, for their alleged violations at an ethanol plant project in Phu Tho - PHOTO: VNA
HCMC – The Supreme People's Procuracy on March 10 proposed sentencing Dinh La Thang, former chairman of Vietnam National Oil and Gas Group (PVN), and Trinh Xuan Thanh, former chairman of PetroVietnam Construction Corporation (PVC), to 12-13 and 21-23 years, respectively, behind bars for their alleged violations at an ethanol plant project in Phu Tho.
The procuracy accused Thang of violating regulations on construction, causing serious consequences. If the sentence is handed down, together with his jail terms in other cases, Thang will get a prison term of 30 years.
Thanh faced a jail term of 11-12 years for the same charge as Thang and 10-11 years for abusing his position and power while on duty. In total, he may stay behind bars for 21-23 years for his alleged violations in this case, the local media reported.
In addition to the previous jail terms, he may be sentenced to life imprisonment.
Meanwhile, the procuracy suggested a prison term of two to three years for former PVN deputy general director Tran Thi Binh. Additionally, the shortest prison term proposed for the remaining nine defendants was 30-36 months, while the longest was seven to eight years.
According to the procuracy, most of the defendants in the case held important posts at a leading economic group of the country and were assigned to protect the State assets at the group. However, they committed many violations, resulting in huge losses for the State.
Thang, who was PVN chairman from 2006 to 2011, knew that PVC was incapable and inexperienced to carry out the ethanol plant project but still assigned PVC to execute it. He was considered the mastermind of the case.
Under Thang's direction, Thanh proposed executing the project, leading to the project's suspension without any completed items, causing losses of VND543 billion.
Moreover, Thanh presided over a meeting to issue a resolution on the execution of the project for more than US$59 million, while the earlier price was US$87 million.
The procuracy assessed that Thanh was Thang's accomplice and actively committed violations.
Further, Thang, Binh and some other defendants were asked to compensate more than VND540 billion. Thanh and Do Van Hong, former chairman of Kinh Bac Petroleum Construction and Investment JSC (PVC Kinh Bac), must pay more than VND13 billion to PVC and Thanh must pay over VND3 billion to PVC Kinh Bac.
The Investigative Police Agency under the Ministry of Public Security is holding the land use right certificate of a land lot on Tam Dao Island of Vinh Phuc Province as Thanh and Hong used money that was advanced illegally to buy the land lot.
TAG: